API Economist: Candidates' Energy Policies Should Add Up
by Matthew V. Veazey
|
Rigzone Staff
|
Thursday, January 12, 2012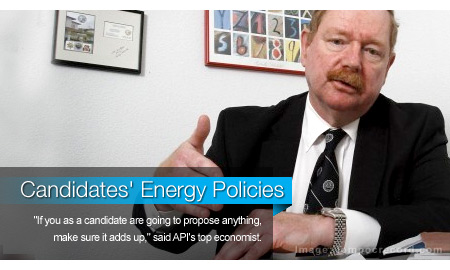 Although he is an economist by training, John Felmy readily offers political advice to candidates aspiring to posts ranging from the county courthouse to the White House who pledge to implement energy policies once in office.
"If you as a candidate are going to propose anything, make sure it adds up," said Felmy, Chief Economist with the American Petroleum Institute (API).
Felmy explained that policy proposals must account for any changes in the supply, generation and distribution of energy. Sources, usage and flows each still need to total 100 percent, he said.
API's top economist, who speaks at industry events throughout the country, often likes to illustrate the 100-percent criterion by incorporating the slide below in his presentations.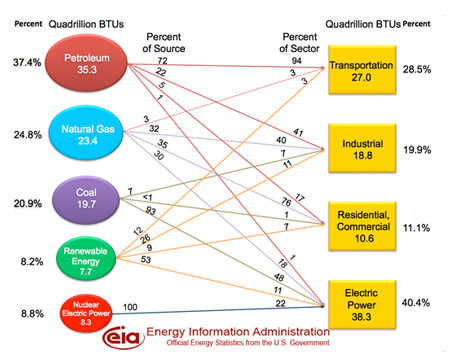 The graphic breaks down the different sources of energy in the U.S. and shows how much of each source goes to transportation, industrial customers, residential and commercial customers and electric power generation. The ovals in the slide must add to 100 percent, the rectangles must total 100 percent and the sets of lines from each oval or square must add to 100 percent. Note that Felmy obtained the quadrillion-BTU totals from the U.S. Department of Energy's Energy Information Administration (EIA). The percentages stem from Felmy's own calculations.
"Let's recognize we have vast resources here," said Felmy. "Otherwise we'll leave people in the dark."
In its Annual Energy Outlook 2011, EIA projects that renewables should make up 13 percent of U.S. energy supply in 2035 --compared to eight percent in 2009. Although Felmy and API welcome greater integration of renewables into the energy mix, they have frequently touted the need for policymakers to take a pragmatic stance in shaping laws and regulations governing conventional energy sources such as oil and natural gas, coal and nuclear. After all, EIA projects that fossil fuels and nuclear will meet more than 86 percent of U.S. energy demand by 2035.
Government's Failure Has Been the Industry's Success
From an energy public policy standpoint, Felmy contends the oil and gas industry in recent years has been successful in terms of what has not come to fruition. Perhaps the most significant recent examples have been failed attempts by the Obama Administration to repeal the Section 199 tax deduction for the oil and gas industry.
Congress enacted Section 199 in 2004 as part of the American Jobs Creation Act. As the name suggest, the law aims to spur the formation of new domestic jobs in the oil and gas industry as well as other manufacturing and production sectors. Brian Johnson, Senior Tax Advisor with API, said that every industry but oil and gas now benefits from the full nine-percent deductibility that the law allows.
"We are actually penalized and treated worse than any other industry," said Johnson. Using Starbucks as an example, Johnson said the coffee retailer can grind coffee beans imported into the U.S. and enjoy the full nine-percent deduction. Meanwhile, an energy company extracting or processing domestically produced hydrocarbons in the U.S. can only take a maximum six-percent deduction.
A provision in the Troubled Asset Relief Program (TARP), which President George W. Bush signed into law in 2008 in response to the subprime mortgage crisis, lowered the oil and gas industry's maximum Section 199 deductibility from nine to six percent. In each of its proposed budgets for 2009, 2010 and 2011, the Obama Administration attempted to repeal the industry's remaining Section 199 deduction. However, given the administration's failure to pass a budget through Congress since President Obama took office, those efforts to repeal the deduction have been unsuccessful. Other efforts to repeal the deduction legislatively have failed as well.
The latest Office of Management and Budget figures estimate that a full repeal of the oil and gas industry's Section 199 deduction would generate $18.26 billion dollars in extra federal revenue over 10 years. Johnson, meanwhile, questions the notion of singling out one industry.
"If it's bad tax policy, it's bad tax policy for everyone," Johnson said, adding that a repeal would "certainly compromise job creation."
Leaving Nothing to Chance
It remains to be seen whether the Obama Administration or anti-industry forces in Congress propose yet another Section 199 repeal targeting the oil and gas sector. Perhaps federal and state lawmakers and regulators will try to make headway on new tax policies or implement new restrictions on hydraulic fracturing. For his part, Felmy is keeping virtually everything on his proverbial policy radar screen for 2012.
"Right now, I think that almost anything can come out," Felmy said.
Felmy also remains hopeful that some policy news out of Washington, D.C., or statehouses may promote further growth in the industry. One potential source of good news for the industry may be New York State, where a moratorium on fracking has kept the state's Marcellus Shale acreage off-limits to development. On Wednesday of this week, the state's Department of Environmental Conservation officially closed the public comment period on proposed new rules and conditions that would allow high-volume hydraulic fracturing to occur.
Felmy, who spoke to Rigzone from Albany, N.Y., after attending a pro-industry rally commemorating the close of the comment period, expressed a positive outlook regarding the prospects for advancing shale gas drilling in the Empire State. He observed that he is more encouraged now than he was one or two years ago because the governor has called for a "more scientific analysis" of fracking that reflects less of the charged rhetoric that has often surrounded the issue in recent years.
"If I wasn't optimistic I wouldn't be here," concluded Felmy.
Whatever this year's energy policy outcomes may be in Albany, Washington, D.C. and elsewhere in the U.S., you can bet that Felmy will be analyzing how they stack up for the industry.
Generated by readers, the comments included herein do not reflect the views and opinions of Rigzone. All comments are subject to editorial review. Off-topic, inappropriate or insulting comments will be removed.