Hess Pegs 2012 Capital Spending Plans at $6.8B
by Tess Stynes
|
Dow Jones Newswires
|
Thursday, January 12, 2012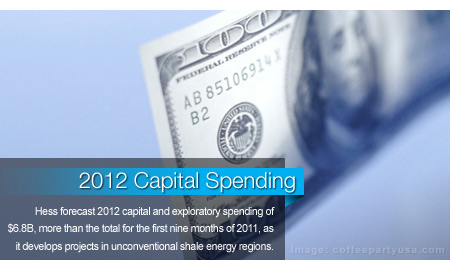 (Dow Jones Newswires), Jan. 12, 2012
Hess said Thursday it expects its 2012 capital and exploratory spending to be $6.8 billion, near the upper end of its previous guidance, as it focuses on the development of unconventional resources.
The oil explorer and refiner on Thursday said the vast majority of the 2012 spending is targeted for exploration and production, with $2.5 billion earmarked for unconventional production and development, $1.6 billion for production, $1.8 billion for developments and $800 million for exploration.
Hess said in October it expected its 2012 capital budget to range between $6 billion and $7 billion and that the program would be funded by internally generated cash flow and some select asset sales. The company's 2012 budget is about 10 percent higher than the $6.2 billion the company is expected to have spent last year, according to Simmons & Co.
Hess has been increasing spending in recent years in order to fund an ambitious exploration program and the development of shale-gas properties it acquired across the U.S. But the company's stock was hammered last year after Hess reported a string of dry holes and lower-than-expected production, mainly due to disruptions in Libya. "Investors don't like to see companies increasing spending and not offering positive results," says Fadel Gheit, an analyst with Oppenheimer & Co.
Hess's 2012 budget plans also follow recent announcements by other large oil companies, which expect to increase spending this year in order to accelerate the development of shale-oil regions across the U.S. in order to take advantage of climbing oil prices. More than 70 percent of Hess's production is oil.
In September, Hess agreed to pay more than $1.34 billion in a pair of transactions that netted it 185,000 acres in the Utica Shale in Ohio.
Hess said Thursday that its exploration budget this year will mainly focus on drilling wells in Ghana, Indonesia, Brunei and deep in the Gulf of Mexico and acquiring seismic data for two blocks it operates in Iraqi Kurdistan.
The company plans to release its fourth-quarter earnings report Jan. 25.
Copyright (c) 2012 Dow Jones & Company, Inc.
Generated by readers, the comments included herein do not reflect the views and opinions of Rigzone. All comments are subject to editorial review. Off-topic, inappropriate or insulting comments will be removed.
RELATED COMPANIES