Brazil to Remain Hotspot for Energy Project Financing in 2012
by Karen Boman
|
Rigzone Staff
|
Monday, January 16, 2012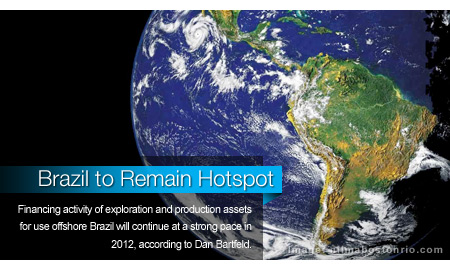 Financing activity of exploration and production assets for use offshore Brazil will continue at a strong pace in 2012, according to Dan Bartfeld, project finance partner at Milbank, Tweed, Hadley & McCloy.
Bartfeld is involved in the financing of a range of projects for Latin America, Brazil in particular, involving ultra-deepwater drillships, semisubmersibles or floating production, storage and offloading (FPSOs) vessels. Many are not for major oil companies, but companies that are majority owned by Brazilian entities that will be chartered to Petrobras.
"Brazil will continue to provide a huge amount of opportunities for industry in 2012," said Bartfeld.
The shift of rig and FPSO construction from Asian shipyards to Brazilian shipyards will be a topic of discussion in the new year. Bartfeld also is seeing the financing of some drillships for work offshore Mexico for Pemex and a pick-up in financing activity for energy assets in the Gulf of Mexico.
Some European banks that have been heavily involved in rig financing are pulling back due to the ongoing European debt crisis, and Japanese, Korean and Chinese banks are filling the void left by the European banks, Bartfeld noted, calling it an "exciting source of capital."
While commercial banks have traditionally loaned money to finance energy projects, project bonds financed through government-owned banks, or export credit agencies, particularly for capital-intensive projects such as drilling rigs, is another new area of financing to grow in 2012. The bonds are repaid from revenue of the drilling rig or FPSO.
Bartfeld sees additional financing opportunities for shipyards, ports, and transportation in Brazil in the coming years.
The firm's Latin American financing practice ended 2011 on several high notes through its participation in international lending, including a $692 million debt facility for Brazil-based Schahin Group, which will use proceeds to purchase a Black Diamond deepwater drillship that will be leased to Brazilian state energy company Petrobras.
Brazil in recent years has sought to increase its total energy production, particularly for oil and ethanol, to meet domestic production goals set by the Brazilian government in order to feed Brazil's growing energy consumption related to economic growth.
The significant potential of Brazil's offshore pre-salt oil reserves has attracted significant interest in exploration offshore Brazil since the Tupi oil field was discovered in the Santos Basin in 2007. Since then, a number of pre-salt discoveries have been made; these reserves are found in a pre-salt zone 18,000 feet below the ocean surface under a thick layer of salt.
The amount of recoverable pre-salt oil and gas reserves has been estimated has been estimated to be more than 50 billion BOE.
Generated by readers, the comments included herein do not reflect the views and opinions of Rigzone. All comments are subject to editorial review. Off-topic, inappropriate or insulting comments will be removed.