Brazil's 2011 Oil Royalties Surge On Higher Prices, Output
by Jeff Fick
|
Dow Jones Newswires
|
Tuesday, January 10, 2012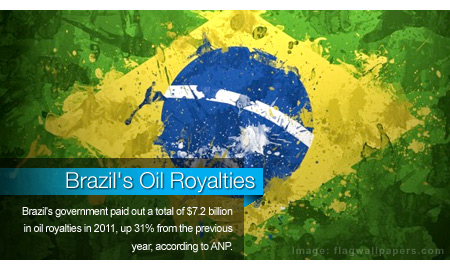 RIO DE JANEIRO (Dow Jones Newswires), Jan. 10, 2012
Higher international oil prices and greater domestic crude production helped boost royalty payments to Brazil's states and cities by more than a third in 2011, according to data from the country's National Petroleum Agency, or ANP.
Brazil's government paid out a total of 12.99 billion Brazilian reais ($7.2 billion) in oil royalties in 2011, up 31% from BRL9.93 billion the previous year, the ANP data showed. Nine oil and natural gas producing states received BRL3.84 billion, while cities were paid BRL4.44 billion. Royalties are calculated using monthly production figures and an established reference price for oil.
Royalty payments from oil and natural gas production are a key source of funding for Brazil's cash-strapped cities and states, helping to pay for education and health-care services close to the country's oil reserves. The payments are also at the heart of a debate in Brazil's congress about how to best divide that wealth, which is expected to soar dramatically as some of the world's largest recent discoveries start output.
The debate has also held up an auction of government-held oil fields under new production-sharing agreements in what is known as the pre-salt region. The first oil field that will be up for bid under the new production sharing agreements will be Libra, which the ANP estimates holds 5 billion barrels of recoverable oil. The main pre-salt oil fields lie in the Santos Basin off the coast of Rio de Janeiro and Sao Paulo states, under 2,000 meters of water and a further 5,000 meters below sand, rocks and salt.
Lawmakers want to more equally distribute the funds, but key oil-producing states such as Rio de Janeiro, Espirito Santo and Sao Paulo--which currently receive most of the royalties from offshore output--have balked at reducing their take.
Out of Brazil's nine leading oil-producing states, Rio de Janeiro received the most royalties at BRL2.47 billion. That was up from BRL2.03 billion in 2010. The Campos Basin, where more than 90% of Brazil's crude oil is produced, lies off the coast of Rio de Janeiro and Espirito Santo states.
Copyright (c) 2012 Dow Jones & Company, Inc.
Generated by readers, the comments included herein do not reflect the views and opinions of Rigzone. All comments are subject to editorial review. Off-topic, inappropriate or insulting comments will be removed.
RELATED COMPANIES