China Mulls Energy 'Super-Ministry' in 2013
Dow Jones Newswires
|
Friday, January 06, 2012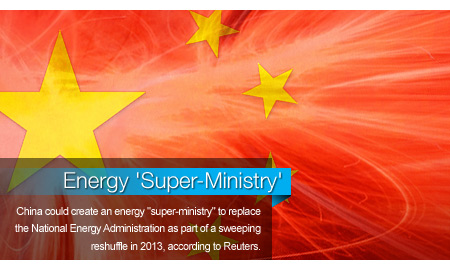 (Dow Jones Newswires), Jan. 6, 2012
China could create an energy "super-ministry" to replace the National Energy Administration as part of a sweeping reshuffle in 2013, Reuters reported Friday, citing two unnamed sources.
The new ministry would assume responsibility for energy-related duties currently scattered across other government bodies, the report said.
It will be responsible for policy, planning and could be responsible for setting consumer fuel and petrol prices, the report on the Reuters website said.
Full story: http://www.reuters.com/article/2012/01/06/us-china-energy-ministry-idUSTRE8050AE20120106
Copyright (c) 2012 Dow Jones & Company, Inc.
Generated by readers, the comments included herein do not reflect the views and opinions of Rigzone. All comments are subject to editorial review. Off-topic, inappropriate or insulting comments will be removed.