Indonesia 2012 O&G Investment To Fall to $18.3B
by Deden Sudrajat & Farida Husna
|
Dow Jones Newswires
|
Thursday, January 05, 2012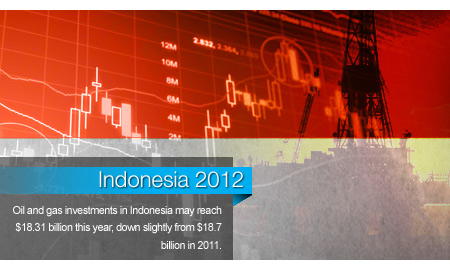 JAKARTA (Dow Jones Newswires), Jan. 5, 2012
Oil and gas investments in Indonesia may reach $18.31 billion this year, down slightly from $18.7 billion in 2011, a senior official at the country's energy ministry said Thursday.
Oil and Gas Director General Evita Legowo told reporters that upstream investment may reach $15.89 billion this year, down from $17.03 billion last year. She didn't elaborate, but analysts said existing regulations aren't attractive enough to lure investments.
Indonesia's inability to attract upstream investment has resulted in the country missing its crude production targets in recent years.
The likely decline in the upstream investment will likely be offset by higher investment in the downstream this year, Legowo said.
She projected downstream investment to rise to $2.42 billion this year from $1.66 billion last year largely due to construction of floating gas terminal and refinery revamps.
In another press conference, Finance Minister Agus Martowardojo said 2011 average oil production was only 898,000 barrels a day, compared with the government's target of 945,000 barrels a day.
Indonesia turned into a net oil importer in 2003. In the past decade, Southeast Asia's biggest economy has failed to find enough major reserves to meet its needs, becoming more dependant on imports and curbing the government's capital expenditure due to ballooning fuel subsidies.
The government still subisidizes gasoline, diesel, liquefied petroleum gas and kerosene for the 240-million population. The price of low-octane, subsidized gasoline is about half that of non-subsidized gasoline.
In 2011, the total fuel subsidy was IDR165.2 trillion ($18.1 billion), 27% higher than government's target of IDR129.7 trillion. Capital expenditure amounted to only IDR115.9 trillion, below the government's target of IDR141 trillion.
Copyright (c) 2012 Dow Jones & Company, Inc.
Generated by readers, the comments included herein do not reflect the views and opinions of Rigzone. All comments are subject to editorial review. Off-topic, inappropriate or insulting comments will be removed.