Ecuador Court Upholds Ruling Against Chevron
by Isabel Ordonez & Angel Gonzalez
|
Dow Jones Newswires
|
Wednesday, January 04, 2012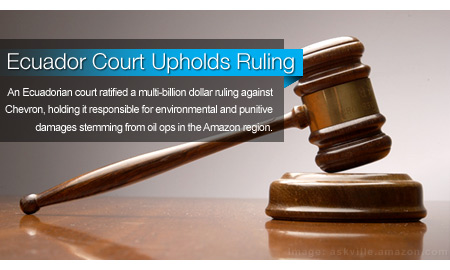 HOUSTON (Dow Jones Newswires), Jan. 4, 2012
An Ecuadorian court on Tuesday ratified a multi-billion dollar ruling issued last year against Chevron, holding the company responsible for environmental and punitive damages stemming from oil operations in Ecuador's Amazon region.
An appeals judge upheld the original ruling, issued in February 2011, "in all its aspects," according to a copy of the ruling seen by Dow Jones Newswires. The original decision ordered Chevron to pay some $9.5 billion in remediation costs and plaintiff damages, and an additional $8.6 billion if it refused to apologize for environmental damages, which the company vehemently denies.
The ruling was appealed both by Chevron, which accused the plaintiffs of presenting fraudulent evidence and the Ecuadorian government of interfering with the process, and by the plaintiffs, who sought a bigger award. Judge Milton Toral Zevallos acknowledged errors in some of the evidence, but that these were minor and wouldn't have affected the initial decision. The judge denied the plaintiffs' requests for additional damages. The ruling also fixed the plaintiffs lawyers' fees at 0.10% of the awards resulting from the latest ruling.
The plaintiffs said in a statement that the decision is "yet further confirmation of Chevron's extraordinary greed and criminal misconduct in Ecuador," and that now the company has an opportunity to show that it respects the "laws and courts of other countries." "If it does not, the communities will take all measures allowed by the law to secure their legally entitled right to a clean-up," the statement said.
Chevron, the second-largest U.S. oil company by market value, said it continues to "seek recourse through legal proceedings outside of Ecuador," including arbitration proceedings in The Hague and lawsuits against the plaintiffs in New York. The company has said previously that it expected an adverse ruling.
"Chevron does not believe that the Ecuador ruling is enforceable in any court that observes the rule of law," the company said.
The ruling seems one of the final steps in a courtroom battle that has spanned nearly two decades. Chevron has the right to request a clarification from the court, and to appeal to the next level of Ecuador's judiciary. "An analysis of the ruling is underway and it's too soon to say what will come next," Chevron spokesman Kent Robertson said.
In any case, if those options are exhausted, the fight is likely to continue elsewhere, as the plaintiffs are likely to seek to collect the damages all across Chevron's sprawling energy empire. The company, which inherited the lawsuit after it acquired Texaco in 2001, has no assets in Ecuador. The plaintiffs said that they are being "forced to consider standard judgment enforcement actions against Chevron in other countries."
Copyright (c) 2012 Dow Jones & Company, Inc.
Generated by readers, the comments included herein do not reflect the views and opinions of Rigzone. All comments are subject to editorial review. Off-topic, inappropriate or insulting comments will be removed.
RELATED COMPANIES