PdVSA To Pay Exxon $255M, Not $908M, In Arbitration Verdict
by Kejal Vyas
|
Dow Jones Newswires
|
Monday, January 02, 2012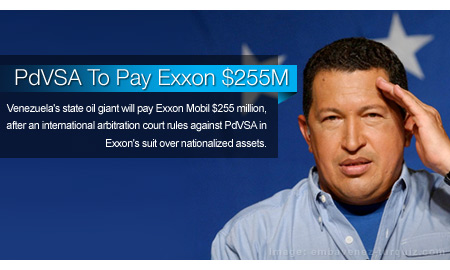 CARACAS (Dow Jones Newswires), Jan. 2, 2012
Venezuelan state oil giant Petroleos de Venezuela said Monday it will pay Exxon Mobil $255 million over the next 60 days after an international arbitration court ruled against it in the U.S. oil major's suit over nationalized assets.
Over the weekend, Exxon said it had been awarded $908 million by the arbitration panel at the International Chamber of Commerce, a substantially lower amount than the $7 billion that company was seeking for oil assets nationalized by Venezuelan President Hugo Chavez in 2007.
However, in a statement Monday, PdVSA said that it will subtract from the verdict a series of debts owed by Exxon for the financing of the Cerro Negro project. The company, which called the verdict a "successful defense of Venezuela" also will deduct the $300 million Exxon had frozen in PdVSA's New York bank accounts during the early phases of legal actions in 2007.
Both parties are still awaiting a decision on a separate suit filed by Exxon's local subsidiary, Mobil Cerro Negro Ltd., before the World Bank's International Centre for Settlement of Investment Disputes, or ICSID, where the Chavez administration is facing around 20 pending cases. With billions in potential payouts looming, the number of cases has been the source of constant concern for holders of Venezuelan sovereign bonds.
The court decision came four years after Exxon, the world's largest publicly traded oil company, left Venezuela in a spat with the country's government, which decreed that the state oil monopoly would have the majority stake in joint ventures with foreign partners. By law, PdVSA now holds at least 60% of all oil projects.
Exxon has said that it invested around $750 million into the Cerro Negro facility. The company reduced its claim to $7 billion from an initial claim of $12 billion.
Copyright (c) 2012 Dow Jones & Company, Inc.
Generated by readers, the comments included herein do not reflect the views and opinions of Rigzone. All comments are subject to editorial review. Off-topic, inappropriate or insulting comments will be removed.
RELATED COMPANIES