First Movers in Eco-Drilling: Greener Results to be Clicks Away
by Barbara Saunders
|
Rigzone Contributor
|
Wednesday, December 21, 2011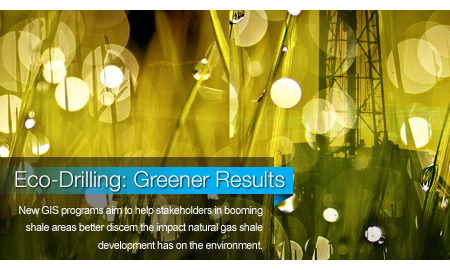 At the clickety-click of a mouse, stakeholders in the Eagle Ford and other shale areas will be able to discern the impact that different aspects of natural gas shale development have on the environment and collaborate on the best ways to prevent damage.
The Houston Advanced Research Center (HARC) and Petris Technology of Houston will be teaming together to commercialize a geographic information system (GIS) that will help predict and prevent ecological harm from drilling operations. The technology initially will be developed in the Eagle Ford shale play area. The work will complement prototype efforts underway by the University of Arkansas for the Haynesville and Fayetteville shale plays.
Petris' work will focus on a GIS analytical tool and associated technology integration transfer for optimizing well placement. The system also will enable key types of environmental data to be shared between stakeholders, such as exploration and production (E&P) firms, land owners and regulatory agencies.
"If land owners are reluctant to allow exploration, production and transportation of oil and gas from their lands because of environmental concerns that outweigh the financial incentives," said Petris CEO Jim Pritchett. "Then we are unable to access an energy source that is essential for our national energy and security needs, the incremental creation of jobs and services and subsequent cascading economic contributions."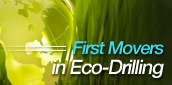 Petris will create the collaborative web portal for use in planning and monitoring land use, as well as for regulatory compliance, in shale play areas. The baseline content will be assembled through the information provider alliance such as the Texas Parks and Wildlife, conservancy groups, Texas A&M's research science department, regulatory bodies etc.
The system will enable the formulation of land use benchmarks to assist in the optimal placement of wells, roads, gathering lines and other necessary infrastructure. Information delivered via the web portal will be easily accessible. It will provide analytical tools to calculate impacts and opportunities. In addition, the system will feature collaboration abilities such as information sharing, alerts and notifications for a dynamic environment, Petris said.
"This web portal with its spatial referencing can benefit fossil energy developers, private landholders and regulators," said Petris' Pritchett. "The system will allow aggregation of information that can be calculated for areas, such as a land holding, or for a point of interest location, such as a street corner. The web-based system provides transparency of compliance and monitoring for all stake holders."
Land holders will be able to logon and see the state of the environmental variables that can impact their land. The real time data feeds and summation of attributes of interest will provide a transparency of the business and regulatory activities underway. By setting alert based on their parcel of land or a point of interest, they can get emails or SMS messages if tolerances are exceeded.
The system and its sensing devices also will permit regulators to assess proper due diligence for adherence of environmental attributes and benchmarks for operating companies. This can include habitat restoration compliance in the impacted areas such as drilling sites, pipeline gathering sites, road development etc. Some significant examples of impact on quality are: habitat damage, wildlife preservation, water depletion and contamination. Land value may be compromised by disturbance of deer migration patterns affecting hunting opportunity value. Significant additional impacts include those caused by ingress and egress road development, incoming traffic and equipment. Even materials brought from outside the area often bring in non-native and harmful seeds that adversely impact the vegetation assets of the land.
Proposed System Features
Petris' proposed Land Use Collaboration Site (LUCS) is a GIS based portal that will aggregate a large number of data sources which are spatially distributed and represent land use, environmental condition and other land features in the region. Each data type is represented as a 'spatial layer' in the system that can be compared with other layers. The aggregate values can be displayed on a map. Any number of layers or topics can be assembled. Simple and complex relationships between layers can be established.
The resulting aggregation of information will be used to find optimal sighting locations and/or to determine impact of actions on land values and environmental quality.
Topics for layers include, lease boundaries, road systems, wildlife migration patterns, waterways, aquifer recharge areas, and archeological assets. The map layers also can be processed to include proximity values, such as the distance of schools and hospitals from noise sources.
The web-based technology can be used as a planning tool as well as a monitoring tool. Real time or near real time data feeds can be integrated to provide an up- to-the-minute display of operational impact. Sensor utilization systems that measure and report real time air quality, water quality (disposal, reclamation), habitat impact and wildlife migration patterns will provide a dynamic information environment for sound decision making.
University of Arkansas Contributions
Research at the University of Arkansas will be used to enhance the GIS functionalities.
The university has conducted research and development (R&D), funded by the U.S. Department of Energy (DOE), for systems that improve communication between operators, regulators, and the general public.
One initiative, known as the Fayetteville shale play Low Impact Natural Gas and Oil (LINGO) program, created a public site that explains the steps in drilling and producing gas from a well, from gaining access to the land through sending the gas to market up to abandonment upon the well reaching the end of its productive life. For each step in the process, the site provides information about the state and federal regulatory requirements that developers must follow, with links to state and federal regulations. The site also describes technologies that can be used to minimize the environmental impacts of natural gas development and best management practices.
Another initiative, known as the Infrastructure Placement Analysis System (IPAS,) is an online application developed by the university's Center for Advanced Spatial Technologies in collaboration with Argonne National Laboratory. The system provides a secured and centralized resource where operators and regulators can perform pertinent geospatial analysis on a range of environmental issues relating to the oil and gas industry.
Operators can use custom tools to place well pads, gathering lines, or lease access roads on the map. Once the operator is done placing the object, they can run sensitive area, flow model, and slope analyses. Sensitive area analysis runs a geo-processing service to determine if the planned feature will affect extraordinary resource waters or endangered species.
Generated by readers, the comments included herein do not reflect the views and opinions of Rigzone. All comments are subject to editorial review. Off-topic, inappropriate or insulting comments will be removed.