EOR Playing Role in Carbon Capture, Storage Research
by Karen Boman
|
Rigzone Staff
|
Thursday, December 22, 2011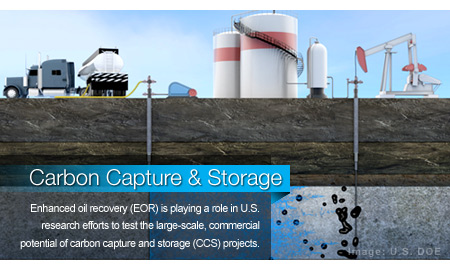 Enhanced oil recovery (EOR) is playing a role in U.S. research efforts to test the large-scale, commercial potential of carbon capture and storage (CCS) projects.
Partnerships among the U.S. government, universities and companies are seeking to reduce carbon dioxide (CO2) emissions from the industrial and power sector at large point emission sources such as coal plants and industrial plants. The goal of this research is to demonstrate the commercial viability of CCS projects for large point CO2 sources of 50 MW or greater.
Efforts to utilize CO2 also are being pursued, including oil production, particularly for areas where storage underground is not the best option. According to the U.S. Department of Energy (DOE), EOR technologies advanced by DOE's fossil research have helped provide about 13 percent of domestic oil production as well as a way to permanently store CO2.
Depending on the cost of the CCS project, oil prices, and a number of factors, CCS projects may be linked with enhanced oil recovery projects, said Jared Ciferno, director of the office of coal and power at the National Energy Technology Laboratory, which conducts in-house research for the U.S. Department of Energy's Carbon Sequestration Program.
"EOR can be used as a mechanism to reduce cost, which is why you're seeing the link between CCS projects and EOR," said Ciferno, noting the high costs associated with CCS projects, which can run into the hundreds of millions of dollars.
NETL has reached out to a number of U.S. industries with its CCS research efforts, including oil and gas, to move technology from initial development stages to pilot scale. While it's still too early to determine which of the many technology options will ultimately be the winners, the main intent of research is to reduce costs and energy penalties.
CO2 Use for EOR Could Significantly Boost U.S. Oil Production
Since the 1970s, oil and gas companies have been injecting CO2 into fields to enhance oil recovery. That practice continues today as the oil and gas industry seeks to enhance hydrocarbon recovery from mature fields in areas such as West Texas' Permian Basin.
Pairing EOR projects with CCS research efforts creates a win-win situation for U.S. CCS research, which is seeking to promote development of technologies to maintain a secure source of energy for the U.S. while mitigating CO2 emission levels.
At the same time, exploration and production companies are seeking to enhance -domestic oil production as higher oil commodity prices versus natural gas has pushed drilling efforts towards oil. Current infrastructure in the U.S. supports EOR as an option for CO2, with approximately 4,000 miles of CO2 pipelines in place.
Last month, DOE reported that second phase tests by the Midwest Regional Carbon Sequestration Partnership (MRCSP) show that oil and gas fields have high potential for enhancing oil and gas production associated with CO2 storage. Additionally, these tests determined that the use of CO2 in enhanced oil recovery also shows potential for storing CO2.
The MRCSP estimated that by utilizing CO2 for EOR, approximately 1.2 billion barrels of oil could be recovered from existing oil fields in their region, helping to offset the cost of CCS technologies.
Houston-based DKRW Advanced Fuels plans to sequester CO2 captured at its industrial gasification and liquefaction facility located near Medicine Bow, Wyoming. Earlier this year, the company entered an agreement with Denbury Resources, under which Denbury will purchase CO2 for use in their EOR operations.
"EOR has been used for years in Wyoming, West Texas, and the U.S. Gulf Coast to increase oil production from depleted oil and gas fields as well as to sequester the CO2," said Robert Kelly, executive chairman of DKRW. "EOR will enable oil producers to improve recovery rates from existing production instead of importing additional volumes of oil or having to drill in new areas to produce additional petroleum."
DKRW Advanced Fuels is completing final development on the project and expects to complete financing activities and ramp up construction on the facility in 2012.
The Global CCS Institute reported that many countries see many similarities between CCS and oil and gas exploration and production and, in some cases, see it as closely linked to EOR. As a result, legislation governing offshore and onshore petroleum is either being amended to include CO2 as a covered resource, or new laws covering CO2 are being developed that resemble existing E&P laws.
U.S. Energy Demand, CO2 Emissions to Rise in U.S.
CCS, which encompasses a number of technologies that involve the capture and compression of carbon dioxide and its disposal into geological formations, is viewed by its proponents as a solution in keeping carbon dioxide (CO2) emissions below 450 parts per million worldwide to prevent global warning, according to the United Nations' Intergovernmental Panel on Climate Change (IPCC).
The use of CCS technology is part of the U.S.'s combined effort to manage CO2 emissions levels. Since its founding in 1997, DOE's Carbon Sequestration Program has significantly advanced the CCS knowledge base in selected technology areas through diverse portfolio of applied research projects.
With overall U.S. demand expected to grow 14 percent from 2008 to 2035, carbon dioxide emissions are expected to rise from 5,838 mmt in 2008 to 6,311 mmt in 2035, the U.S. Energy Information Administration reported. NETL said that CCS could account for up to 55 percent of the emissions mitigation needed to stabilize and reduce CO2 concentrations.
While increased use of natural gas is the fastest and cheapest way for the world to reduce CO2 emissions in the energy sector, this will not be enough to maintain safe levels of CO2, Royal Dutch Shell Chairman Jorma Ollila told the International Energy Agency governing board on Oct. 18.
"When used on a gas-fired power plant, CCS technology could reduce CO2 emissions by 90 percent," Ollila said. "And only about half of the CO2 would need to be stored, compared with an equivalent-sized coal plant."
U.S. Steps Up Effort to Bring Commercial CCS Projects Online
In September 2010, DOE selected 22 projects to accelerate CCS research and development for industrial sources, with the goal of bringing five to 10 commercial demonstration plants to market by 2016 without causing electricity prices to rise more than 35 percent. The projects were to be funded with more than $575 million from the American Recovery and Reinvestment Act.
"For decades, the coal industry has supported quality high-paying jobs for American workers, and coal has provided an important domestic source of reliable, affordable energy," President Obama said in February 2010, when the new CCS initiative was first announced.
"At the same time, coal-fired power plants are the largest contributor to U.S. greenhouse gas emissions and coal accounts for 40 percent of global emissions. Charting a path toward clean coal is essential to achieving my Administration's goals of providing clean energy, supporting American jobs, and reducing emissions of carbon pollution."
In November, the Midwest Geological Sequestration Consortium began injecting CO2 for its large-scale CO2 injection test in Decatur, Illinois on the first large-scale U.S. project that will store CO2 from a manmade source in a deep saline formation. The test involves capturing CO2 from the Archer Daniels Midland ethanol production facility in Decatur, Illinois.
"Establishing long-term, environmentally safe and secure underground CO2 storage is a critical component in achieving successful commercial deployment of carbon capture, utilization and storage (CCUS) technology," said Chuck McConnell, Fossil Energy's Chief Operating Officer. "This injection test project by MGSC, as well as those undertaken by other FE regional partnerships, are helping confirm the great potential and viability of permanent geologic storage as an important option in climate change mitigation strategies."
Other demonstration projects are being conducted in Texas, Louisiana, Alabama, Illinois and California with operations set to begin between 2013 and 2016 timeframe.
Cost, Economic Uncertainty Pose Challenges for CCS Projects in U.S., Worldwide
According to the DOE, today's commercially available CCS technologies will add around 75 percent to the cost of electricity for a new pulverized coal plant and around 35 percent to the cost of electricity for a new, advanced gasification-based plant.
Some U.S. states, either individually or through regional partnerships, have passed regulations on CO2 emissions. In March, Texas established a tax break for CCS projects, providing a 50 percent reduction in the crude oil tax rate for production from approved EOR projects that use CO2 captured from anthropogenic sources in Texas or released as an industrial emission. However, no enacted federal regulation in the U.S. exists at present.
The high cost, combined with lack of federal laws, pose as barriers to the adoption of large-scale commercial CCS projects. Shell Chairman Ollila said that companies will not invest in such facilities until a long-term CO2 pricing mechanism is established to allow for a return on the investment.
Citing uncertainty surrounding U.S. climate policy and weak U.S. economy, American Electric Power (AEP) shut down its retrofitted Mountaineer coal-burning power plant.
AEP had started operations in 2009 at the facility, which was the first fully-integrated CCS project at an existing coal-burning power plant. The project confirmed that CCS technologies can be successfully retrofitted on an existing coal-fired plant.
Technology, financial mechanisms and regulatory framework to encourage CO2 projects, public acceptance, and international cooperation are needed to enable carbon capture and storage projects on a larger scale, said Kamel Bennacour of Schlumberger at the Society of Petroleum Engineers Annual Technology Conference and Exhibition in early November.
The Global CCS Institute reported in its October update, The Global Status of CCS, that specific challenge for the CCS industry "is to demonstrate the entire chain at commercial scale – incorporating CO2 capture from large point sources, CO2, compression and then transportation and injection into suitable storage sites or for a use that results in permanent emissions abatement."
Generated by readers, the comments included herein do not reflect the views and opinions of Rigzone. All comments are subject to editorial review. Off-topic, inappropriate or insulting comments will be removed.
MORE FROM THIS AUTHOR
Karen Boman
Senior Editor | Rigzone