Shell Hopes to Resume Drilling in Weeks Following GOM Leak
Rigzone Staff
|
Tuesday, December 20, 2011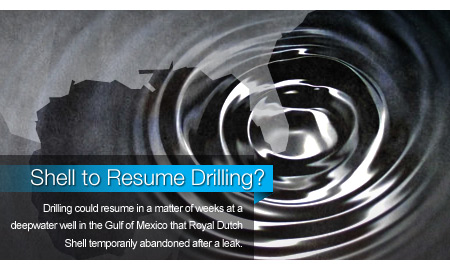 Royal Dutch Shell said Tuesday that drilling could resume in weeks at a deepwater well in the Gulf of Mexico that it temporarily abandoned after a leak occurred Sunday.
The National Response Center report listed "equipment failure" as the cause of the spill from the first sidetrack of Shell's Appotomax No. 5 well at Mississippi Canyon Block 348.
The report stated the release of 319 barrels of fluid used to drill the well was caused by "a leak in the boost line." The fluid spilled was described as a mix of drilling mud and "base oil."
Transocean semisubmersible Deepwater Nautilus is drilling at the site.
Company officials said Monday the leak has been stopped and the well temporarily abandoned while it makes repairs.
"Drilling will resume when Shell and the Bureau of Safety and Environmental Enforcement and any other relevant governmental agencies are confident that the necessary repairs have been made and the operations can continue safely, which is likely to be in a matter of weeks," a Shell spokesman said in an emailed statement to Dow Jones.
Shell wasn't involved in the Deepwater Horizon spill last year in the Gulf of Mexico, but the Deepwater Nautilus rig it is using has the exact same design and is considered a "sister" rig of the Deepwater Horizon.
The company said federal regulators have approved its plan, which involves removing an underwater pipeline that connects the rig to the blowout preventer on the seafloor.
This is the second time this year that Shell has had to contain a pipeline leak from an offshore oil and gas facility. In August, the Anglo-Dutch company battled for a week to stem a ruptured underwater pipe at its Gannet Alpha platform in the U.K. North Sea. Some 1,300 barrels of oil spilled into the sea before divers managed to seal the pipe. Since then, Shell has been engaged in an operation overseen by U.K. authorities to safely remove the estimated 660 metric tons of residual oil still left in the pipeline.
Shell was one of the first companies to resume drilling in the Gulf of Mexico when a deepwater exploration plan to drill for oil in five locations at Appomattox was approved by U.S. authorities in May. Shell runs the Appomattox venture, roughly 116 kilometers off the Louisiana coast, and holds an 80 percent stake. Canada's Nexen Inc. holds the remaining 20 percent.
Dow Jones writer Alexis Flynn and Daniel Gilbert of the Wall Street Journal contributed to this report.

RELATED COMPANIES
For More Information on the Offshore Rig Fleet:
RigLogix can provide the information that you need about the offshore rig fleet, whether you need utilization and industry trends or detailed reports on future rig contracts. Subscribing to RigLogix will allow you to access dozens of prebuilt reports and build your own custom reports using hundreds of available data columns. For more information about a RigLogix subscription, visit
www.riglogix.com
.