Science, Public Outreach Can Curb Questionable Groundwater Complaints
by Matthew V. Veazey
|
Rigzone Staff
|
Tuesday, December 20, 2011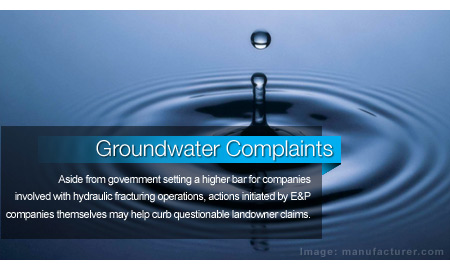 Imagine for a moment that you are an executive with an exploration and production company with operations in a shale gas formation such as the Marcellus.
Thanks to permitting and site preparation delays, not to mention the need to sidetrack after losing the bottom hole assembly in a tight spot, your initially projected $6 million budget for the first well in a three-well program has ballooned toward $10 million. Fortunately, well completion and production start-up have gone smoothly and your company is finally recovering its investment. Although this well has presented a number of hurdles, you have a better grasp of how to complete subsequent wells in this program. A few months go by and the remainder of this drilling program goes smoothly. Life is good.
Then, one day a process server arrives at your office to deliver a lawsuit. A landowner who lives near the site of the first well in your recently completed program alleges that hydraulic fracturing operations have contaminated his water well. He contends that third-party testing shows elevated levels of methane in his water supply and that he now must use bottled water for drinking and various other daily activities. He wants your company to drill a new water well and pay unspecified damages. What do you do?
Remember the Science
"The first and most important thing to keep in mind is the science," said Nicolle R. Snyder Bagnell, a Pittsburgh-based attorney with the law firm Reed Smith who specializes in litigation and regulatory issues regarding Marcellus natural gas producers. "Under Pennsylvania law, production companies are required to sample water wells within a specified radius both before and after drilling."
Bagnell, who holds degrees in environmental science from Harvard and Duke universities, explained the samples show the E&P company whether contamination may have actually occurred and what the potential contamination source might be. She added the company must then determine whether its drilling operations caused the alleged contamination and, if so, what happened.
"A thorough and early investigation can prepare the E&P company in many ways -- both by explaining what happened, helping them to build a strategy for remediation, if necessary, and for litigation or dispute resolution if that becomes an issue," Bagnell continued.
'Nearly Identical' Complaints
Despite the vocal opposition to hydrofracking that has surfaced in recent years in the Marcellus and other shale gas plays, Bagnell points out that a relatively small number of cases are pending in Pennsylvania courts where landowners are seeking recovery for alleged groundwater contamination from drilling or fracking. The formal complaints that have been filed are "nearly identical in substance," she added.
"The plaintiffs claimed that they were injured, both physically (past and future health problems) and economically (decrease in property value) by hydrofracturing chemicals that leached into the groundwater near to their properties," explained Bagnell. "All of the cases are still in fact discovery and therefore the ultimate merits of the claims, and the kinds of damages that may be actually awarded for the alleged decreases in property values or for the alleged costs of remediation, are not yet known."
In one case filed November 15, 2010, in the U.S. District Court for the Middle District of Pennsylvania (Fiorentino v. Cabot Oil and Gas Corp., No. 09-cv-2284), the plaintiffs allege that Cabot's drilling and fracking activities caused contaminants and gas to enter its well water. The party filing the complaint asserts common law claims of nuisance, negligence, breach of contract and strict liability. Moreover, it asserts a statutory claim under the Hazardous Substances Control Act (HSCA). Bagnell pointed out the court denied a motion to dismiss the HSCA claim and the strict liability claim because it found that a private right of action existed under HSCA. In addition, the court found that that fact discovery was needed to determine whether gas drilling and fracking constitute an abnormally dangerous activity subject to strict liability. Fact discovery is ongoing in this case and was recently extended into 2012.
In another case filed September 10, 2010, in the same federal jurisdiction (Berish v. SW Energy Prod. Co., No. 3:10–cv–1981), the plaintiffs allege that SW Energy's drilling, production and operational activities at a gas well on the plaintiffs' premises caused contamination of their well water.
"The complaint asserts the same common law claims as in Fiorentino," explained Bagnell.
A third federal complaint filed in the Middle District of Pennsylvania, Burnett v. Chesapeake Appalachia, LLC, et al. (No. 3:11-cv-1059), alleges that drilling and production activities by Chesapeake and others polluted the plaintiffs' water supplies and contaminated their property. In addition to asserting the same common law claims in the previous examples, it asserts a claim under HSCA and a claim for negligence per se.
Bagnell said the case was remanded back to state court for procedural reasons, and she does not know the current status of the case.
In addition to these federal cases, at least two other cases alleging groundwater contamination have been filed in Pennsylvania state court. One, Zimmerman v. Atlas America, LLC, No. 7564, was filed in Washington County November 9, 2010, and is currently pending. A second case in the same county was filed against Range Resources but has been settled out of court.
To Settle or Not to Settle?
As the examples above illustrate, having a court find a direct link between fracking and water well contamination in the Marcellus has been a challenge for plaintiffs. Moreover, scientifically proving that the former causes the latter has been problematic.
On November 22 of this year, an agency of the Pennsylvania General Assembly that a month earlier had released a study showing elevated bromide levels in seven water wells announced that the results were erroneous. According to The Center for Rural Pennsylvania, the research team found that the bromide concentration data used in the study were in fact incorrect.
The Pennsylvania State University researchers who conducted the study reported "updated results show that the occurrence of bromide in water wells after gas drilling or drilling after fracking is not as prevalent as first reported (in 7 wells), but did occur in a single case (1 well)," the agency stated. The bipartisan legislative agency, which focuses on rural policy matters, plans to issue a revised report containing corrected data and analyses after the researchers review the findings.
Given the questions surrounding the purported link between fracking and water well contamination, might an E&P company's decision to settle open a proverbial Pandora's box of similar claims in the future?
"I think whenever anyone settles a claim that has questionable merit, there is the potential that others will see that and try the same play to extract the same or better settlement," said Bagnell. However, she pointed out that other, overriding reasons may influence a defendant to settle a claim that it believes lacks merit.
"In addition to the usual reasons for settling a dispute including avoiding legal costs, the relationship between the E&P company and the landowner is a long-term one," Bagnell explained. "Presumably, if the landowner is making a groundwater claim, there is a well on their property. In the Marcellus, those wells may be on the property and produce gas for 40 years or more. When thinking about the relationship in that long-term perspective, it may well be worth it to settle a questionable claim now than have a contentious relationship with that landowner for decades."
Bagnell also acknowledges that not all claims of contaminated water wells may lack merit.
"I am sure that there are instances where improper casing and/or cementing of wells resulted in groundwater contamination," Bagnell said. For example, those were the claims in the recent Cabot cases in eastern Pennsylvania. (For the record, Bagnell was not involved in the Cabot cases.)
"In those cases, the Pennsylvania Department of Environmental Protection alleged that improper techniques utilized in the drilling process are what ultimately led to potential contamination issues," Bagnell said. "That does not mean that Marcellus gas is in the water, but actually could mean that natural gas from other formations that are not the target of the drilling could migrate along the drill bore to the groundwater formation."
Another possible link to bonafide instances of water well contamination may stem from drilling activities that occurred long before E&P companies set their sights on the Marcellus.
"In some areas in Pennsylvania, water wells are actually drilled into formations that previously or still produce natural gas," said Bagnell, who was quick to add that companies generally ensure that casing and cementing operations are conducted properly.
"In fact, the state has made the requirements for casing and cementing more stringent in the last year, so these cases are rare and result more in mistakes being made than any inherent danger of contamination from drilling," Bagnell explained. "The new casing and cementing requirements help to alleviate some of the potential concerns."
In July of this year, the Marcellus Shale Advisory Commission convened by Pennsylvania Gov. Tom Corbett issued a report that suggests changes to the existing sampling requirements and presumption of liability for water well contamination. At this point, the report's recommendations have not become law.
Taking a More Proactive Stance
Aside from government setting a higher bar for E&P companies via measures such as stricter casing and cementing requirements, actions initiated by the companies themselves could help to curb questionable landowner claims. One example of this approach may be to take water samples from a larger area than necessary.
"Some operators are conducting sampling of water wells in a greater radius than is required by law so that they have the facts and data to rebut a claim made by landowners who may be in the same area as a well is drilled, but do not own the property subject to the drilling or are farther away than would typically be considered to have a possible impact," explained Bagnell.
"I think this science helps to weed out the completely meritless claims early and also helps to show both the claimants and the state regulators that the operators know what they are doing and have experience with safe drilling and operations," she added. Also, adopting a proactive public outreach strategy could preempt meritless claims. On this front, even company insiders will acknowledge that the rush in recent years to acquire Marcellus acreage in some instances eclipsed attempts to properly engage a populace with little to no prior experience with the industry. That is changing, however.
Individual companies and industry groups have redoubled efforts to inform landowners and others about their health, safety and environmental efforts.
By visiting the website of a Marcellus operator or a natural gas industry website, an individual with little or no familiarity with the industry and an open mind can arm him or herself with numerous facts about drilling, fracking and production.
For example, Cabot maintains an "Industry Education" page on its website that features videos about drilling and site development as well as other resources.
Range Resources' website features extensive information on protecting water resources. Chesapeake, meanwhile, presents a thorough breakdown of fracking fluid ingredients that shows alternative uses of these chemical constituents.
On the industry-wide level, organizations such as the Pennsylvania Independent Oil & Gas Association, the Marcellus Shale Coalition and America's Natural Gas Alliance engage stakeholders through even broader outreach efforts.
For those seeking state-specific or even well-specific details, the Ground Water Production Council and the Interstate Oil and Gas Compact Commission offer access to a wealth of information on their "FracFocus" website. Many operators readily supply data that appear on FracFocus.
"I think that operators are doing a better job of educating the public about the drilling process and the safety measures they are taking to protect the environment, which helps to alleviate some landowner concerns," said Bagnell. She expressed confidence that applying comprehensive water sampling and public outreach strategies will reap benefits for the industry, landowners and the general public.
"First, I believe that the industry on the whole is very environmentally conscious and is taking all of the necessary precautions to protect the states' resources, including groundwater," she concluded. "Second, I think that as development continues to increase in this area, and education of the public continues, there will be fewer complaints made and generally less hysteria -- the science does and will show that natural gas production can be safely done without impacting groundwater."
Generated by readers, the comments included herein do not reflect the views and opinions of Rigzone. All comments are subject to editorial review. Off-topic, inappropriate or insulting comments will be removed.