BP Indemnifies Cameron for Deepwater Horizon Claims
|
Friday, December 16, 2011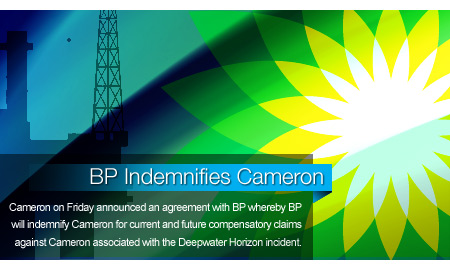 Cameron on Friday announced an agreement with BP whereby BP will indemnify Cameron for current and future compensatory claims against Cameron associated with the Deepwater Horizon incident.
Under the terms of agreement, Cameron agrees to pay $250 million to BP, and both parties have agreed to mutually release claims against each other. In addition, BP will fully indemnify Cameron for damage claims arising under the Oil Pollution Act, claims for natural resource damages and associated damage-assessment costs, and other claims arising from third parties.
"This agreement with BP is the right action, as it removes uncertainty facing Cameron in the litigation associated with the Deepwater Horizon event," Cameron Chairman and CEO Jack Moore said. "This eliminates all significant exposure to historical and future claims related to this incident. Though this agreement does not provide indemnification against fines and penalties, punitive damages or certain other potential non-compensatory claims, we do not consider these items to represent a significant risk to Cameron."
The Company's insurers are expected to fund not less than $170 million of this agreement. The Company expects to take a charge in the fourth quarter for any amounts not covered by insurance.