BOURBON Profits from Modernization, Safety Emphasis
by Barbara Saunders
|
Rigzone Contributor
|
Friday, December 16, 2011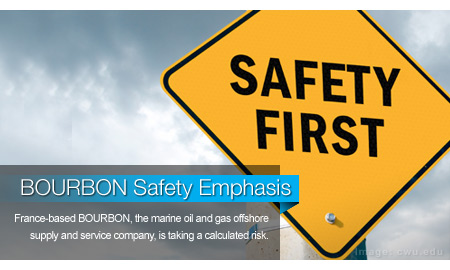 France-based BOURBON, the marine oil and gas offshore supply and service company, is taking a calculated risk.
The company is investing some $2 billion in capital expanding its fleet, developing its network worldwide and recruiting what it terms "the most competent people." Beforehand, BOURBON also built 13 training centers around the world. Today, profits are surging ahead – and the company has one of best safety records in the industry.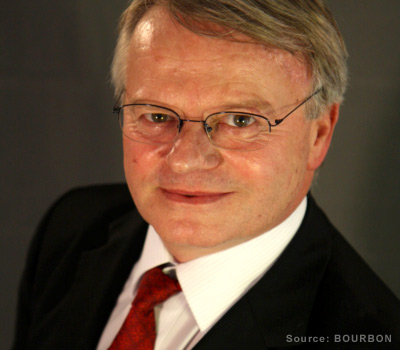 BOURBON CEO, Christian Lefévre
"Safety is crucial when you're delivering a service to the most demanding oil and gas companies," said Christian Lefèvre, Chief Executive Officer of BOURBON. "Thanks to our safe operations, our high-performance modern fleet and our worldwide network and backed by the success of our Bourbon Liberty series, we are actively moving ahead with our 'BOURBON 2015 Leadership Strategy' plan, which is making the group the world's leader in offshore oil & gas marine services."
BOURBON is currently executing its strategy through year 2015, announced in June last year, which involves for the period 2011-2015:
• A new building investment of $2 billion in offshore vessels;
• Average growth in revenues of 17 percent per year; and,
• A minimum 95 percent availability rate for vessels in 2015.
As planned, the strategy will result in the delivery of an expected 115 new vessels between the second half of 2011 and 2015. The first half of 2011 brought delivery of 27 vessels, with another 40 planned in 2012. (Full delivery statistics for 2011 will be presented with the company's annual results in March, 2012.) BOURBON operated 423 vessels as of June, 2011.
Included among these vessels are BOURBON'S 13 worldwide training centers, many of which are equipped with simulators. Positioned near where BOURBON recruits or operates, the centers train experienced and newly recruited employees to the group's standards in trades, management and personal development.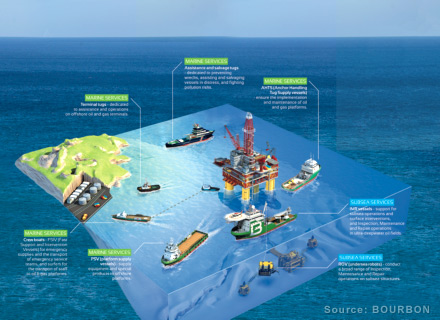 Marseilles, France and Singapore are the sites for training in anchor, handling operations for oil platforms (anchor-handling tug supply, or AHTS vessels) and refueling operations (platform supply vessels, or PSVs). Marseilles also is the site of one of eight centers for piloting waterjet-propulsion crewboats. The others are located in Nigeria, Congo, Cameroon, Gabon, Brazil, Indonesia and Angola.
In China, technical training technology and equipment are installed on new series diesel-electric ships, like the Bourbon Liberty. Ravenna, Italy, is the site of the center for piloting subsea remote-operated vehicle (ROV) operations , while Manila, The Philippines, has a training center for mastering dynamic positioning (DP), delivering international certifications.
Each simulation program reflects the actual conditions of BOURBON fleet operations, integrating the technical characteristics of vessels, the standard of operations and safety of the group, and the standards of the customer.
BOURBON's accident rates have dropped dramatically. As of yearend 2010, for instance, BOURBON had a 0.64 total recordable injury rate (TRIR) and a lost time injury rate (LTIR) of 0.05, compared to a 2.28 TRIR and 1.14 LTIR in 2007.
BOURBON recently reported a 17 percent revenue increase for the first nine months of 2011, compared to the same period a year ago.