Canada Releases Rules For Offshore Arctic Oil, Gas Drilling
by Edward Welsch
|
Dow Jones Newswires
|
Thursday, December 15, 2011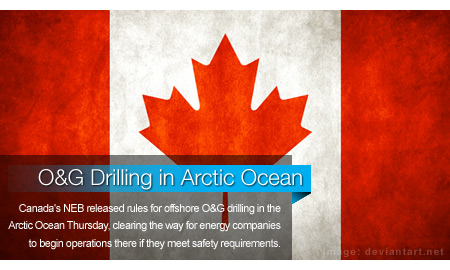 CALGARY (Dow Jones Newswires), Dec. 15, 2011
Canada's national energy regulator released rules for offshore oil and gas drilling in the Arctic Ocean Thursday, clearing the way for energy companies to begin operations there if they meet safety requirements.
Canada announced a review of its regulations concerning offshore oil and gas drilling in the wake of the Deepwater Horizon oil spill in the Gulf of Mexico last year. Canada's revamped regulations for Arctic offshore drilling include a requirement that energy companies have contingency plans to "kill" an out-of-control oil well within a short period of time, reflecting concern over the 12 weeks it took BP Plc (BP) to plug the Deepwater Horizon well that leaked about 5 million barrels of oil into the Gulf before it was stopped.
There is no current offshore drilling in Canada's Arctic region. Energy companies including BP Plc, Exxon Mobil Corp. (XOM) and Imperial Oil Ltd. (IMO), which is controlled by Exxon Mobil, hold exploration rights in Canada's Arctic.
Canada's National Energy Board said it created the drilling guidelines after consulting with scientists, labor and industry groups, other regulators, and residents and native groups in Canada's three northern territories of Yukon, the Northwest Territories and Nunavut.
Copyright (c) 2011 Dow Jones & Company, Inc.
RELATED COMPANIES