Technical, Regulatory Challenges Boost O&G IT Demands
by Karen Boman
|
Rigzone Staff
|
Thursday, December 15, 2011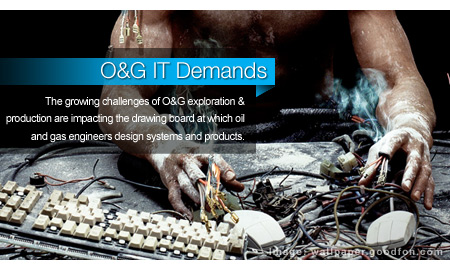 The growing challenges of oil and gas exploration and production are impacting the drawing board at which oil and gas engineers design systems and products.
The demands of oil and gas exploration in deepwater and unconventional plays, as well as increased safety demand and environmental concerns, is requiring oil and gas engineers to develop more complex products and systems at a faster, more cost-effective rate and with greater levels of collaboration.
Global software manufacturer Dassault Systemes in February began offering DraftSight, a free 2D CAD software program, to oil and gas companies to raise awareness of the company's offerings to the oil and gas industry. Auto-CAD systems are used to design a wide range of products, from offshore platforms to design valves and pipelines.
Anyone with good Internet connections can download and install DraftSight at no cost, which can save companies thousands of dollars in licensing fees, said DraftSight General Manager Aaron Kelly. DraftSight's parent company also offers a number of 3D design programs, and is offering DraftSight to introduce customers to the company's products "so when they're ready to go to 3D, we would be the preferred vendor."
"We can help people by allowing them to take the money they would've spent with another vendor in 2D and invest it with us in 3D," said Kelley. The company also sells products and services around 2D. The DraftSight system allows more workers within companies to handle and interact with engineering data, which is a big productivity boost, said Kelley.
DraftSight can be used to augment software that companies already have in place, including the 3D automated software design program Solidworks and Catia, also put out by Dassault.
A number of oil and gas companies are already using DraftSight. The software program has been used in helping combat the Macondo oil spill, when DraftSight was used to examine a ship that would be used to handle high-pressure hoses that BP officials wanted to use to help capture oil spilling into the Gulf.
Using 3D software allows designers to understand and see the dimensions of products such as valves, and to better communicate design to those outside of an engineering department. "When you have a 3D model, somebody who is a secretary or drives a truck can understand it as well as somebody in engineering. It allows for better mechanical analysis and whether a design is good enough to meet the needs of this particular application."
"I see a high component of mechanical design in oil and gas," said Kelley. "If people want to drill deeper and more complex targets such as oil sands and shale, it will require a mechanical system or component to deliver something. That's why our software is important to the industry."
O&G Capital Spending to Support Higher IT Spending
Total IT oil and gas spending is expected to grow five percent globally over the next five years, and design software spending by oil and gas companies worldwide is expected to rise by nearly seven percent during that period, said Rick Nicholson, group vice president at IDC Energy Insights, a Framingham, Mass.-based company that provides strategic business technology and application advice for the energy industry.
Nicholson attributed the spending increase to the significant level of capital investment in construction for energy-related projects, from production platforms to pipelines to liquefied natural gas terminals.
Spending on design software will likely continue through the next two years as companies continue to bump up capital spending. This capital spending increase is due in part to higher oil prices, which are enabling development of unconventional liquids plays. Capital spending also will increase as operators focus on exploring for and producing the world's remaining oil and gas resources, which are mainly concentrated in deepwater, oil sands, tight oil and shale gas.
The oil and gas industry's IT needs not only are growing in design software, but in IT solutions to plan and manage production, monitor operations and comply with growing regulatory requirements for all aspects of energy from exploration and production (E&P) to commodity trading.
IDC Shares O&G Predictions for IT Trends for 2012
In its 2012 predictions for oil and gas, IDC Energy Insight forecasts that the increasingly complex regulatory environment will make it more difficult for companies to deal with compliance issues as the oil and gas industry lives with the 'ghost of Macondo', Nicholson said.
New regulations, the economic loss suffered by the industry due to the Macondo oil spill, and a desire to put safety first will prompt oil and gas companies to invest in achieving a holistic view of assets, people and operations.
Safety monitoring will be the top smart technology investment in the next one to two years, IDC predicts. Companies also will invest in integrated applications such as environment health and safety (EH&S), enterprise asset management (EAM), incident management, enterprise content management, workflow and analytics, to address issues surrounding new regulations.
Initial E&P technology innovation, which will be dominated by unconventional resources in 2012, will be followed by IT-enabled process innovation, when later stage innovation will be focused on efficiency such as driving out costs, and risk management, or environmental concerns by the government and public, IDC noted.
IDC predicts that in 2012, independent mid-size E&P companies will pioneer a "manufacturing" approach to shale gas production, which will require increased IT investments in capital project/well planning, rig scheduling, supply chain management, hydrocarbon accounting, EAM, EH&S, energy trading risk management, collaboration and business analytics, particularly geospatial.
Companies also will invest more in smart drilling and production technologies as they seek to reduce non-productive time in light of high drilling costs, reduce the number of workers in hazardous and remote locations associated with deepwater and Arctic regions, and enhance recovery from existing oil and gas resources.
Remote control and monitoring will be used to reduce the number of trips to wells in remote locations to enable fully automated wells. IDC sees oil and gas companies asking vendors to make hydrocarbon accounting applications capable of using less frequent well tests and data drive models for production values.
IDC also predicts that companies will apply smart instrumentation, real-time communications and advanced analytics to enhance production in order to identify problems before breakdowns or disasters occur.
Cyber Security: Addressable Problem for O&G Industry
The problem of cyber security, which is becoming a problem not just with operators and their staff but between companies and their joint venture partners, contractors and suppliers as more people have access to proprietary data, is an addressable problem, but increased effort is needed to address cyber security issues within the oil and gas industry, McCormick said.
To address security issues, IDC forecasts that security investments will increase worldwide, particularly for antivirus, anti-spam, and identity and access management. Between 2011 and 2015, worldwide oil and gas software security spending will rise 5.24 percent from $546.3 million to $705.4 million.
Companies also will invest in securing the business-to-business environment among their partners, contractors and suppliers, and demand for breach notification and vulnerability management services also will rise.