First Post-Macondo Lease Sale Draws US $337 Million in High Bids
by Robin Dupre
|
Rigzone Staff
|
Wednesday, December 14, 2011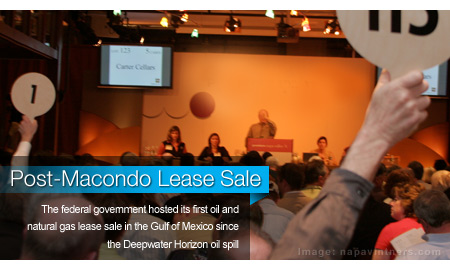 The federal government hosted its first oil and natural gas lease sale in the Gulf of Mexico since the Deepwater Horizon oil spill, at the Louisiana Superdome, drawing in more than US $337 million in high bids.
The Bureau of Offshore Energy Management (BOEM) accepted bids from oil and gas companies for new deep- and shallow-water leases in the Gulf of Mexico as part of Lease Sale 218. The auction included 3,913 unleased blocks spanning more than 21 million acres in the western Gulf of Mexico, in water depths ranging from 16 to more than 10,975 feet. These are the remaining blocks from the 2007-12 Outer Continental Shelf Oil and Natural Gas Leasing Program.
Preliminary data shows that Lease Sale 218 has seen a 28 percent increase in bids compared to Western Gulf of Mexico Lease Sale 210 which was held in August 2009. Collectively, a total of 20 oil and natural gas companies submitted 241 bids on 191 tracts, pulling in bids totaling $712 million to acquire leases in the Western Planning Area. By comparison, Lease Sale 210 received 189 bids which were submitted by 27 companies on 162 tracts.
"These results demonstrate there is a great interest in continuing to develop oil and gas in the Gulf of Mexico," said Ken Salazar, Department of the Interior Secretary. "We can finally move forward."
Sale Statistics
ConocoPhillips submitted the highest bid on a single block – Keathley Canyon Block 95 – offering more than $103.2 million. The high tender beat out offers made by other companies, including BP, Shell and Maersk, according to the BOEM.
The Keathley Canyon Block 95, ranging in a water depth of 2,625 to 5,249 feet, received the greatest number of bids, totaling 7. The deepest block receiving a bid, Alaminos Canyon Block 784, registers at a depth of 10,043 feet.
ConocoPhillips ranked at the top of total number of high bids submitted, with a total of 75, and a sum of $157 million. ExxonMobil came in second with 50 bids, totaling $63 million. The highest bid the company made, $4 million, came in for the Alaminos Canyon Block 612, in a water depth of 5,249 feet.
Other key players were Maersk, with 12 bids totaling $36 million. The company bid $8.6 million for Garden Banks Block 537, located in a water depth of 1,312 to 2,625 feet. And BP, submitting a dozen high bids for leases worth about $27 million. The company allocated $7.1 million for Keathley Canyon Block 441 in waters ranging 2,625 to 5,249 feet.
BOEM estimates that Sale 218 could generate approximately 222 to 423 million bbls and 1.49 to 2.65 Tcf of natural gas.
Lease Sale Changes
Prior to approving the continuation of lease sales for the Outer Continental Shelf, the department conducted a thorough historical analysis of the last 15 years of lease sales in the GOM.
This resulted in several changes being made, which are in effect for Oil and Gas Lease Sale 218:
• BOEM revised the initial period of the lease term for blocks in water depths of 400 meters to less than 1,600 meters
• The minimum bonus bid has increased for blocks in water depths of 400 meters or deeper
• No deepwater royalty suspension provisions will be offered for leases issued from this sale
• Bids submitted for blocks within the U.S.-Mexico "Boundary Area" will be held unopened until on or before 30 days following a Transboundary Agreement that is executed or June 14, 2012
The lease form has been revised
RELATED COMPANIES