Seadrill Studying Brazilian Expansion Plans
by Seadrill Ltd.
|
Press Release
|
Wednesday, December 14, 2011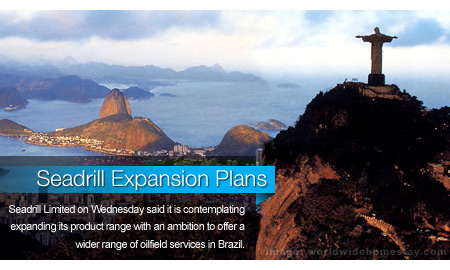 Seadrill Limited on Wednesday said it is contemplating expanding its product range with an ambition to offer a wider range of oilfield services in Brazil.
It is the intention that such expansion could include a joint investment with SapuraCrest Petroleum Bhd, or SapuraCrest, which recently, through a wholly owned subsidiary, entered into agreements with Petrobras for five-year charters of three pipe laying support vessels (PLSVs) to be built for operations in Brazil.
Two of the PLSVs are to be built outside Brazil, while one PLSV will be built in Brazil in compliance with applicable local content requirements. Commencement of operations for the PLSVs is planned to start by October 2014.
Seadrill, through its subsidiaries, would have a 50 percent equity participation in entities which will enter into charter and services agreements with Petrobras with respect to the PLSVs.
The joint investment is dependent, among other factors, on approval by SapuraCrest shareholders. Seadrill holds a 23.6 percent equity interest in SapuraCrest.
Seadrill also announced Wednesday that Seabras Serviços de Petróleo S.A. (Seabras), its wholly-owned indirect subsidiary, made an initial filing of a Reference Form (Formulário de Referência) with the Brazilian Securities and Exchange Commission (Comissão de Valores Mobiliários or CVM) in connection with its potential future initial public offering of common shares to be listed on the Novo Mercado segment of the BM&FBOVESPA, the São Paulo Stock Exchange.
The potential future offering of the common shares is subject to market and other conditions, including the approval by, and registration of the common shares with, the CVM.
RELATED COMPANIES