Kazakhstan Gov't to Acquire Karachaganak Interest
by Chevron Corp.
|
Press Release
|
Wednesday, December 14, 2011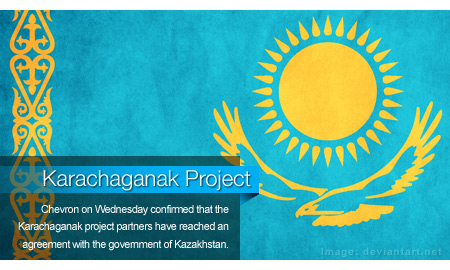 Chevron on Wednesday confirmed that the Karachaganak project partners have reached an agreement with the government of Kazakhstan for it to become a 10 percent equity owner in the Karachaganak project. The transfer of equity to the Kazakhstan government is anticipated to occur on June 30, 2012.
"Chevron has a long and productive history in Kazakhstan," said Chevron Vice Chairman George Kirkland. "We look forward to KazMunaiGas joining the Karachaganak partnership and working together toward further development of this field."
The Karachaganak Venture is comprised of operators BG Group (32.5 percent) and ENI (32.5 percent), as well as Chevron International Petroleum Company (20 percent) and Lukoil (15 percent).
RELATED COMPANIES