Kenya Expanding Scope Of Offshore Exploration - Newspaper
by George Mwangi
|
Dow Jones Newswires
|
Tuesday, December 13, 2011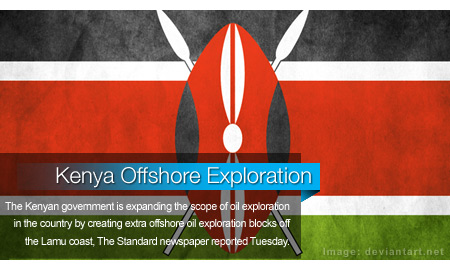 NAIROBI (Dow Jones Newswires), Dec. 13, 2011
The Kenyan government is expanding the scope of oil exploration in the country by creating extra offshore oil exploration blocks off the Lamu coast, The Standard newspaper reported Tuesday.
A senior Ministry of Energy official said the ministry would soon add seven blocks located off the Lamu coast, the daily said.
This will be in addition to the about 15 offshore blocks currently in place in the Lamu region, the daily said.
"We are mapping out seven new blocks in the Indian ocean off the Lamu coast," the daily quoted Hudson Andambi, senior principal superintending geologist (petroleum exploration), as saying. "Many firms have expressed interest in offshore blocks, which is why we are moving fast" to delineate the new blocks.
Andambi wasn't immediately available for comment Tuesday.
There has been increased focus on deep-sea activities in Kenya, even though over 60 years of oil exploratory activities haven't yielded commercially viable deposits, the daily said.

Full Story: http://www.standardmedia.co.ke/InsidePage.php?id=2000048238&cid=14&j=&m=&d=
Copyright (c) 2011 Dow Jones & Company, Inc.