Efficiency, Safety Spur RFID Development for O&G Sector
by Karen Boman
|
Rigzone Staff
|
Friday, December 16, 2011
Use of radio-frequency identification (RFID) technology – in which radio waves are used to transfer data from an electronic tag, attached to an object, through a reader, in order to identify and track an object – has started to grow within in the oil and gas industry as companies seek to address issues of safety and non-productive time.
RFID technology has primarily been used to track inventory, and has been utilized in industries such as retail asset tracking, animal identification and transportation tolls. Now, oilfield service company Weatherford has introduced RFID traceable drillpipe, which can connect temperature, pressure, number of rotating hours and cumulative fatigue load to specific joints. To date, the company has tested in the North Sea and has shipped to operators in Brazil and China.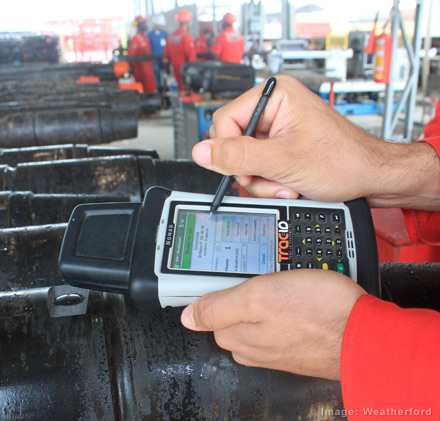 The company has also developed and deployed the RipTide reamer, the first RFID activated drilling reamer. The RFID tag can be dropped from the surface into a well, enabling multiple activations and deactivations during drilling or tripping.
Weatherford's addition of RFID drillpipe to its suite of well completion products is the culmination of over a decade of effort by the company to implement RFID technology into drillpipe.
"We've mainly had tools that we can pull, push, or apply pressure in order to activate in a well over the past five or six decades," said Thomas Redlinger, global product line manager at Weatherford. "Now, we can send downhole electronic coded devices to execute a number of commands."
Previous attempts to introduce RFID technology to oil and gas were unsuccessful, as electronics available until recent years could not handle the tough oil and gas work environments, said Redlinger. When it was first launched, the RFID applications for oil and gas failed, with tags falling out.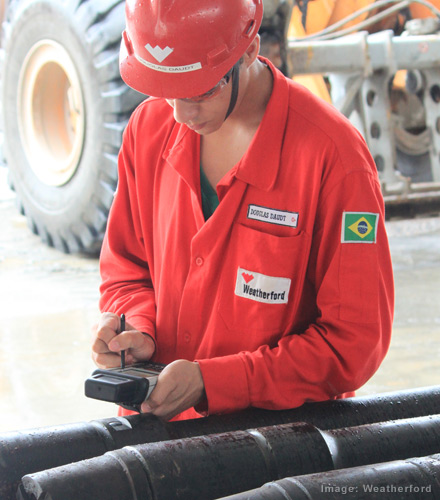 "Asking for RFID technology capable of handling temperatures of over 400 degrees Fahrenheit and capable of handling drilling vibrations was laughable," Redlinger said.
Now, the capability of modern electronics is making RFID possible for use in oil and gas, and companies are beginning to experiment with its capabilities in operations in Brazil, Southeast Asia and the North Sea. Petrobras' request in 2009 for RFID drillpipe when it tendered for drillpipe made RFID become more mainstream in oil and gas, said Redlinger.
RFID technology is costly, adding up to 10 percent to the cost of drill pipe, and companies are looking at how to justify using the technology, Redlinger commented. However, tracking pipe could help companies prevent a downhole or safety incident by allowing companies to track inspection dates, inspector credentials, and the number of rotations. It can also save time by allowing companies to track parts or reduce the time spent re-inspecting a piece of equipment.
Some of Weatherford's clients are looking at RFID for automation in order to get a secondary, physical reference point for the casing string's location. Rather than using a paper tally to calculate the location of joints of the rig floor – which can lead to lost time if Excel documents have not been updated – RFID can track this information.
According to Redlinger, RFID technology "allows us to understand our equipment better and allow workers to know what they're handling when they walk up and see a piece of equipment." It can help workers differentiate between pipes that may look similar but have different performance characteristics.
BHA components are the next step that the oil and gas industry is taking in RFID technology. In Norway, RFID technology is being implemented into pipe handling as a means of improving operation safety by automating more of the work and removing people from operations.
RFID technology has been utilized in some niche markets such as Norway, where Trac ID Systems AS, in which Statoil Venture holds a 42 percent interest, has been developing wireless identification and tracking solutions for the oil and gas industry since 2005.
In June, Trac ID Systems won a contract to deliver RFID enabled location tag plates for all fixed equipment on Statoil's Gudrun platform in the North Sea. Trac ID said the project represented a major step for the oil and gas industry in the adoption of RFID as an enabler for operational excellence and process automation. Production from Gudrun is scheduled to begin in the first quarter of 2014.