Oman Looking at Development of Shale Gas; Imports from Iran
by A.E. James
|
Times of Oman
|
Tuesday, December 13, 2011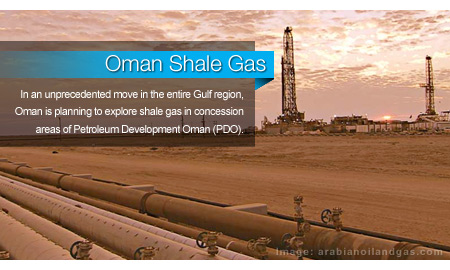 In an unprecedented move in the entire Gulf region, Oman is planning to explore shale gas in concession areas of Petroleum Development Oman (PDO).
Studies are now on to check the viability of developing shale gas fields in Oman, Khalifa Mubarak Al Hinai, advisor at the Ministry of Oil and Gas, told journalists.
"At the moment we are not drilling. It is just a study," noted Khalifa, on the sidelines of Gas Arabia Summit here yesterday.
If found commercially viable, the development of shale gas, which is unconventional natural gas from shale formations, will be the responsibility of oil companies operating in those concessions.
The most significant trend in the United States natural gas production is the rapid rise in production from shale formations.
Khalifa also said that Oman government will discuss possible imports of Iranian natural gas with officials visiting next week.
"An Iranian delegation will be coming (to Muscat) by the beginning of next week. We are still discussing. It all depends on the price," he added. However, he noted that reaching an agreement for gas import from Iran is still 'a long way.'
The Sultanate produces 3.5 billion cubic feet a day of natural gas, he said, adding that 1.5 billion cubic feet a day goes to liquefied natural gas (LNG) plants for exports. "We also import about 140 million cubic feet a day of gas from Dolphin project."
Khalifa said the production matches demand for gas at the moment.
He also said that negotiations are going on between Oman government and British oil giant BP for deciding on the terms and conditions for the commercial development of Khazzan and Makarem tight gas fields in block 61.
"The year 2012 is a crucial year for us to wrap up discussions with BP. The main issues are price, how much gas the company can produce and over what period of time."
The British firm earlier said that it is envisaging a $15 billion investment over a 10-year period for the full-field development of its block 61 tight gas fields in north-central Oman.
The government has signed a major exploration and production sharing agreement with BP in 2007 for developing Kazzan and Makarem gas fields. The agreement covers an area of some 2,800 square kilometres, which contains a number of 'tight gas' reservoirs, which were first discovered in the 1990s.
Copyright 2011 Times of Oman - Muscat Press & Publishing House (SAOC)
Syndigate.info, Al bawaba.com
All Rights Reserved