Iraq Expects To Be Given OPEC Presidency In 2012 - Oil Min
by Hassan Hafidh
|
Dow Jones Newswires
|
Tuesday, December 13, 2011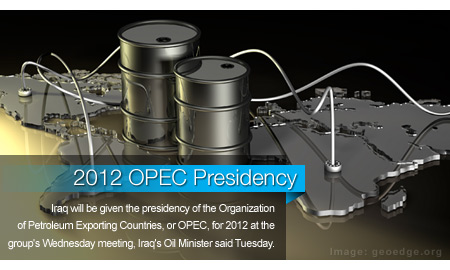 VIENNA (Dow Jones), Dec. 13, 2011
Iraq will be given the presidency of the Organization of Petroleum Exporting Countries, or OPEC, for 2012 at the group's Wednesday meeting, Iraq's Oil Minister said Tuesday.
"Yes we are having discussions with members on OPEC's presidency next year," Iraqi oil minister Abdul Kareem Luaiby told Dow Jones Newswires.
"We will get it," he said.
Iraq, a founder of the 12-member producers group, has not been bound to an OPEC production quota since the 1980s, when the country's production fell sharply below its quota due to the 8-year Iraq-Iran war that ended in 1988. Then the country came under U.N trade sanctions for 13 years following its invasion of Kuwait in 1990, when it was banned from freely exporting oil.
Asked if Iraq being outside OPEC's quota system would affect it getting the OPEC presidency next year, he said: "No, the quota has nothing to do with us being OPEC president."
The OPEC presidency is a ceremonial post that rotates among the 12 members of the organization. It is chosen on the consequence of members' alphabetical names and it is a one-year term. Iraq will take the presidency from Iran.

Copyright (c) 2011 Dow Jones & Company, Inc.