OPEC Advisory Board Recommends OPEC Maintain Output-Sources
by Benoit Faucon and Summer Said
|
Dow Jones Newswires
|
Monday, December 12, 2011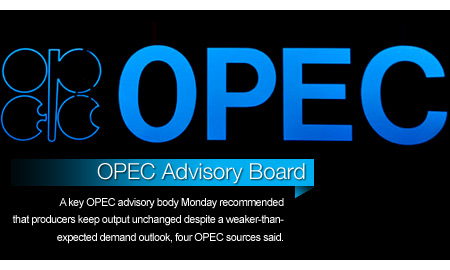 VIENNA (Dow Jones Newswires), Dec. 12, 2011
A key OPEC advisory body Monday recommended that producers keep output unchanged despite a weaker-than-expected demand outlook, four OPEC sources said, a move that could facilitate OPEC's efforts to reach a much-sought-after accord later this week.
OPEC's Economic Commission Board Monday afternoon concluded that OPEC should in 2012 maintain output of about 30 million barrels a day.
"If the market is stable, there is no need to change," said an OPEC source who attended the meeting of the board, which advises national representatives ahead of Wednesday's meeting.
An OPEC delegate said earlier Monday that the board would project that global oil demand for 2012 would be cut by about 100,000 barrels a day compared to a previous OPEC forecast.
A move by OPEC to "roll over," or maintain, current output has been seen as the safest course to prevent another disagreement after talks broke down in June. But OPEC's cut to the 2012 demand forecast also raised the prospect that Iran or other countries could seek to persuade OPEC to cut output on Wednesday.
Copyright (c) 2011 Dow Jones & Company, Inc.