Svanberg: BP Chairman Is Not A Full-Time Role
by Christina Zander and Alexis Flynn
|
Dow Jones Newswires
|
Monday, December 12, 2011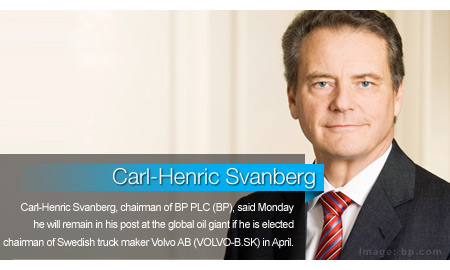 Carl-Henric Svanberg, chairman of BP PLC (BP), said Monday he will remain in his post at the global oil giant if he is elected chairman of Swedish truck maker Volvo AB (VOLVO-B.SK) in April.
"The chairman job in BP is not a full-time job," he told Dow Jones Newswires in an interview.
The comments were made after Volvo earlier Monday said its election committee proposed that he be named chairman at the company's April 4 annual general meeting, replacing Louis Schweitzer, who has declined to stand for re-election.
One of BP's main shareholders said they had queried Svanberg's move with BP and asked whether Svanberg would have enough time to do both jobs. According to the person, BP said the demands of the Volvo role "were not terribly great" and that Svanberg would be able to fulfil his commitments to the oil major.
But according to one senior London analyst, who asked not to be named, the move was "surprising" and suggested it could be a way to provide a "face-saving" exit for Svanberg.
Svanberg was criticized in some quarters for his handling of BP's role in last year's oil spill in the Gulf of Mexico.
Since the accident, BP has been working to repair both its battered reputation and its ability to deliver sustained returns for shareholders. But BP stock, which lost half its value in the aftermath of the spill, is still nearly one-third lower than it was before the April 2010 spill. The company still faces lawsuits, but Svanberg said he believes BP is now over the worst.
"The company is entering a more normal phase and at this stage it is quite possible to take on another assignment," he added.
Svanberg, who is also a member of the board at Swedish network equipment vendor L. M. Ericsson Telephone Co. (ERIC), said he has relatively few assignments compared with his peers, who are usually members of between three and five different boards. But if elected Volvo head, Svanberg said he will resign from the Ericsson board, and doesn't plan to add further board posts.
Volvo's election committee was unanimous in its proposal of Svanberg as chairman.
"Svanberg has a background extending 15 years back, during which he has held several positions as president and chairman, and is recognized as a highly skilled leader," said Volvo election committee chairman Carl-Olof By, who represents the carmaker's second biggest shareholder Industrivarden AB (INDU-A.SK).
As a former chief executive of both Ericsson from 2003 to 2009 and Assa Abloy AB from 1994 to 2003, Svanberg has little or no experience in the automotive industry. However, he said his industrial background means he has a lot to offer Volvo, which is the world's second largest truck maker.
"I have devoted my life to building up companies," he added.