Magnum Hunter, Stone Form Marcellus Venture in W. Va.
by Magnum Hunter Resources
|
Press Release
|
Monday, December 12, 2011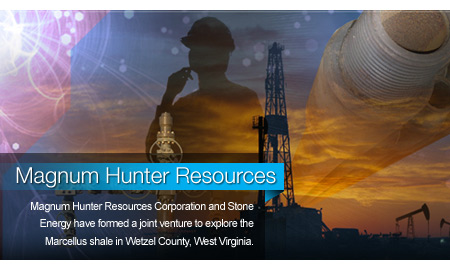 Magnum Hunter Resources Corporation announced today a Joint Development and Joint Operating Agreement with Stone Energy Corporation. The contract area covers an existing mineral leasehold position currently owned by both companies located in Wetzel County, West Virginia.
Terms of the new Joint Agreements include Magnum Hunter's wholly owned subsidiary, Triad Hunter, LLC ("Triad Hunter") and Stone Energy working together within the contract area on an equal and joint basis on approximately 1,925 acres with the objective of drilling nineteen (19) new horizontal wells in the Marcellus Shale over the next two years. Earlier this year, Stone Energy and Triad Hunter drilled and completed two (2) horizontal Marcellus wells, with 50% ownership interest each, on a portion of this existing mineral leasehold. It is anticipated that the additional joint effort will drill and complete the first eleven (11) wells during 2012 at an estimated capital cost of $47 million. It is estimated that the total combined capital costs associated with the contract area for the Joint Agreements will exceed $100 million. Stone Energy will be designated as operator within the contract area and each company will own a 50% working interest. In a separate agreement, Stone Energy agreed to commit its share of production from the contract area to the Eureka Hunter Pipeline System operated by Magnum Hunter's wholly owned subsidiary, Eureka Hunter Pipeline, LLC.
The additional 1,925 acre contract area is a portion of an existing 5,288 acre leasehold in which Triad Hunter will retain 100% interest in 2,979 acres. During 2011 and unrelated to the additional contract area, Triad Hunter drilled and completed three (3) horizontal Marcellus wells with a 100% ownership interest. Triad Hunter anticipates drilling an additional nine (9) wells with a 100% ownership interest on the 2,979 acres.
Management Comments
Mr. James W. Denny, III, President of Triad Hunter, LLC, commented, "We are confident that this strategic alliance with Stone Energy will ensure our ability to more fully develop this area in a more efficient and prudent manner. Both companies realized that by combining our resources, we could each obtain a much greater value and improve efficiency in our respective leasehold positions by drilling a greater number of wells with longer lateral sections. We anticipate establishing new significant production volumes in this region during 2012. This joint venture will benefit greatly due to the take away capacity, processing and multiple market capabilities associated with our Eureka Hunter Pipeline system where 100% of these new anticipated gas volumes have now been dedicated."

RELATED COMPANIES