Pickens: Reduce Foreign Oil Imports
by Jaime Kammerzell
|
Rigzone Staff
|
Tuesday, December 13, 2011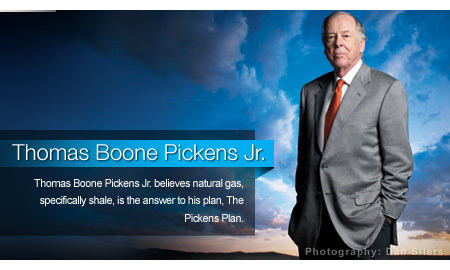 Thomas Boone Pickens Jr. promoted shale gas drilling at the Developing Unconventional Gas (DUG) East conference in Pittsburgh in mid-November. According to the Pittsburgh Post Gazette, Pickens, who made his fortune in oil, but is a fierce promoter of natural gas, said the U.S. needs to end its reliance on OPEC. He believes natural gas, specifically shale, is the answer to his plan, The Pickens Plan.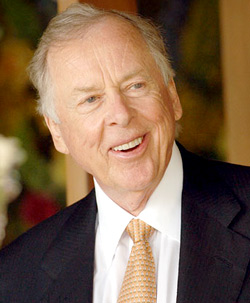 The Pickens Plan
The Pickens Plan is an energy policy T. Boone Pickens proposed in July 2008 to reduce America's dependence on foreign oil by one-third before the end of 2018. His plan called for using wind power instead of natural gas to generate electricity. He then suggested using the unused natural gas to power CNG vehicles instead of gasoline, which would reduce the America's annual foreign oil imports by $300 billion.
Shortly after Pickens revealed his plan in 2008, he told USA Today, that "there's only one energy source that can dramatically reduce the amount of oil we have to import each year, and that's (natural) gas."
Pickens' plan often is criticized as it is seen as a plan to put even more money in the billionaire's pockets. Pickens chairs BP (Boone Pickens) Capital Management, a hedge fund that invests in energy firms, including both natural gas and wind energy.
He also owns, Mesa Power, in which he had planned to invest about $1 trillion in wind turbine farms in the Texas panhandle. He went as far as ordering 687 wind turbines from GE for $2 billion, which were expected to produce up to 4,000 megawatts of electricity, according to the Pickens Plan Web site.
However, in 2009 Pickens postponed the project due to the failing economy, and in January 2010 he cut his order in half to about 300 turbines, which he now plans to install in Canada and Minnesota wind farms, not in Texas as originally planned. According to The Dallas Morning News, Pickens said at the time, in 2011 when he takes possession of the turbines, the Panhandle will still lack transmission lines to carry the power from the wind farm. Pickens said he will build the wind farm when the transmission lines are complete.
How Pickens Made His Billions
Pickens made a name for himself in the 1980s with large acquisitions and takeovers, and more recently with his Pickens Plan. As of September 2011, Forbes estimated Pickens' net worth to be about $1.45 billion.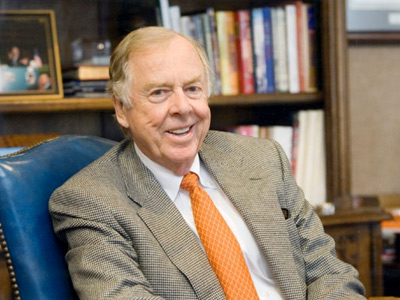 Pickens was born in Holdenville, OK, to Thomas Boone Pickens, a landman, and Grace Molonson Pickens, an office manager.
According to his Web site, Pickens Sr. moved his family from Oklahoma to Amarillo, TX, to work for Phillips Petroleum in the late 1930s. After graduating from Oklahoma A&M in 1951 with a BS in Geology, Pickens Jr. went to work for Phillips Petroleum as well, but in 1954 he left to be a wildcatter. With a wife and three kids to provide for, Pickens knew he had to succeed. Two years later he founded Petroleum Exploration Inc., a domestic oil and gas E&P company.
When his business expanded to include western Canada, Pickens renamed his company Altair Oil and Gas Co., which became Mesa Petroleum in 1964.
Under Pickens' leadership, Mesa became one of America's largest independent natural gas and oil companies. Key to its success was expanding through acquisition, rather than drilling and exploration. According to his Web site, Pickens' company produced more than 3 Tcf and 150 MMbbl from 1964 to 1996.
During the 1980s, Pickens led Mesa's key acquisitions. The first was a takeover of the Hugoton Production Company, which was 30 times the size of Mesa. He also acquired Pioneer Petroleum and the mid-continent assets of Tenneco.
In 1989, Pickens moved Mesa to Dallas, TX. Then, in 1996, on the verge of bankruptcy due to falling natural gas prices, he sold Mesa to Rainwater, who then merged the company with Parker & Parsley Petroleum Company in 1997. The company is now known as Pioneer Natural Resources.
Even though Pickens sold Mesa, he wrote on his Web site that he strongly believed in natural gas. He started BP Energy Fund, now called BP Capital Management, in 1997. Pickens has a 46 percent interest in the $4 billion company, which invests in traditional energy companies and nuclear power corporations. It also is the largest supplier of natural gas for fleets in a number of industries.
Pickens started yet another company in 1997, Pickens Fuel Corp., which is known today as Clean Energy. He took the company public in May 2007.
Not only has T Boone Pickens made billions of dollars in his career, he's shared a lot of his money through job creation and donations to museums, universities and medical institutions. According to his Web site, he has committed to giving away half of his wealth for charitable causes. Pickens has given over $700 million away to charity, most of which went to Oklahoma State University, but also to Hurricane Katrina Relief Efforts, The University of Texas at Austin, Happy Hill Farm Academy and Home, the University of Calgary, and the Downtown Dallas YMCA among others.
Generated by readers, the comments included herein do not reflect the views and opinions of Rigzone. All comments are subject to editorial review. Off-topic, inappropriate or insulting comments will be removed.