New Brunswick's Shale Exploration Stirs Opposition
by Karen Boman
|
Rigzone Staff
|
Friday, December 09, 2011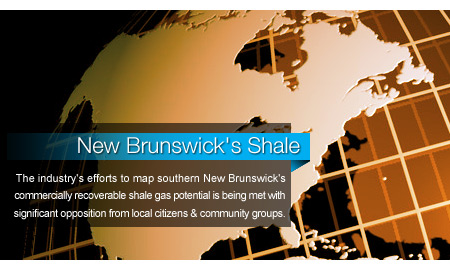 The oil and gas industry's efforts to map southern New Brunswick's commercially recoverable shale gas potential is being met with significant opposition from local citizens and community groups as the provincial government seeks to impose stricter regulations on oil and gas activity.
The Conservation Council of New Brunswick (CCNB) on Nov. 28 presented a province-wide petition with 15,000 signatures urging New Brunswick to abandon shale gas exploration plans. The petition was presented to the provincial legislature on Nov. 29 by York North MLA Kirk MacDonald, who tabled the petition.
MacDonald, who affixed his name to the petition as required for submission, but did not sign it, said he presented the petition to support his constituents. While he neither endorsed nor opposed the petition, he said he had the same questions and concerns that constituents did about shale gas development, CBC News reported.
The group urged New Brunswick's government to ban shale gas exploration and instead focus on creating jobs to significantly reduce energy consumption in the province "and replace our dependence on fossil fuels with renewable sources of energy."
The petition campaign is one of the largest that CCNB has been a part of in its 42-year history of environmental advocacy in the province, said Stephanie Merrill, CCNB's Freshwater Protection Program Director.
According to the petition, the New Brunswick government is expediting the exploration and production of shale gas on 1.5 M hectares of private and public land throughout the province without a formal public inquiry.
"The history of shale gas development elsewhere has seen devastating impacts on drinking water, surface waters, air quality, landscape integrity and human health," the petition said. "Evidence from across North America, from jurisdictions with stronger regulatory frameworks and enforcement capacity than NB, has shown that accidents and detrimental impacts cannot be avoided."
NB Premier: Comprehensive Standards Under Development
In June, the government announced stronger requirements for gas development. Under these new requirements, oil and natural gas companies who want to engage in exploration, development and production will have to:
conduct baseline testing on all potable water wells within a minimum distance of 656 feet (200 meters) of seismic testing and 1,640 feet (500 meters) of oil or gas drilling before operations can begin. These will be minimum requirements and may be increased depending upon the situation;
provide full disclosure of all proposed, and actual, contents of all fluids and chemicals used in the hydraulic fracturing (fracking) process; and
establish a security bond to protect property owners from industrial accidents, including the loss of/or contamination of drinking water, that places the burden of proof on industry.
Earlier this month, New Brunswick Premier David Alward said that the provincial government is developing even stricter regulations through a comprehensive action plan to ensure that New Brunswick has a strong regulatory regime in place that includes robust monitoring and enforcement mechanisms.
"Your government recognizes that there are technologies being used to develop this resource about which New Brunswickers are seeking more information," Alward said in the 2011 Throne speech. "We will continue to ensure New Brunswickers have all the information they need to make an informed decision on this opportunity."
Alward said a multi-disciplinary team from across the government has been working to identify areas requiring new or specific measures to protect human health, drinking water and societal interests. The group's findings will result in an environmental action plan identifying immediate and long-term action needed; the first phase of these measures will be adopted in spring 2012.
Opposition Calls for Moratorium, Public Input into Regulations
Victor Boudreau, Liberal Opposition Leader with New Brunswick's Legislature, has called for a moratorium on shale gas exploration, and criticized Alward's government for encouraging shale gas exploration while having weak laws, lack of enforcement and inadequate penalties for drilling infractions.
"You could drive a thumper truck through holes in our current regulations," Boudreau noted. As an example, Boudreau referenced Calgary-based Windsor Energy, which he said started conducting shale exploration in Sussex before it was granted permission to do so.
A complaint was filed against Windsor by the Department of Natural Resources, saying Windsor violated the province's Oil and Natural Gas Act by directing a contracted company to conduct geophysical exploration within the town of Sussex.
New Brunswick's Natural Resources Minister Bruce Northrup said regulation 86-191 required a municipality's written permission be granted before geophysical activity can be conducted within an incorporated municipalities' boundaries. The department turned over the results of its investigation and pertinent information to the Royal Canadian Mounted Police, which will conduct its own investigation.
"Before industry can be allowed to explore, our regulations must be rock solid, and the proper enforcement tools need to be in place to make sure these companies abide by the law," Boudreau argued.
Boudreau also called for full public participation in development of legislation that leads to new, stronger regulation of the shale gas industry.
"We think the current cabinet has become too heavily influenced by the industry lobby on this file, and have sadly ignored the very real concerns of the people on the front lawn of the legislature," Boudreau said.
David Campbell, senior consultant with Moncton, New Brunswick-based Jupia Consultants Inc., told Rigzone.com that considerable opposition has mounted to shale exploration in New Brunswick.
Local environmental groups have brought in speakers from the U.S. complaining about health problems, and have brought in Cornell University professor Dr. Anthony Ingraffea, who co-authored a study concluding that natural gas from fracking could be dirtier than coal, also was in New Brunswick the week of Nov. 28-Dec. 2 putting on lectures on the subject. Screenings of the 2010 documentary "Gasland" also are being held all over the province.
In August, SWN Resources, which is exploring the province's shale gas potential, suspended its 2011 seismic field operations for the year due to several personal assaults on workers at its New Brunswick sites and theft, destruction and vandalism of thousands of dollars worth of equipment.
The company said the seismic crew was shooting the last few lines of its summer work program, so the vast majority of its planned work was already completed.
"We remain committed to our exploration program and financial obligations to the province of New Brunswick," SWN Resources said in a statement. The company's 2012 plans include a three-year exploration program with additional 2D seismic testing as well as drilling and testing in the areas with high potential. SWN Resources said it would propose a drilling location by this year's fourth quarter.
The company noted that it had been collecting residential water well samples before and after 2D seismic activity in the area. The company was paying for the tests to be done in a certified, independent lab and provided homeowners with a copy of the results.
New Brunswick Shale Gas Estimates
New Brunswick is estimated to have 80 Tcf of shale gas; how much of this gas is economically recoverable is still unknown. The shale is found at a depth of 3,000 meters, and is considered the thickest shale of any shale play in North America.
Nine companies hold 71 tenure agreements for oil and gas drilling in the province covering approximately 1.4 million hectares. Thirty gas wells are currently producing in New Brunswick. The energy industry has estimated that shale gas could generate C$225 million per year in royalties for the New Brunswick government.
Calgary-based Contact Exploration has been primarily focused on oil production from the 100-year old Stoney Creek field in New Brunswick, but sees enormous shale gas potential in the South Stoney Creek field, which is on trend with Corridor's discovery at the Green Road G-41 vertical well. Corridor's shale gas discovery tested 3.5 MMcf/d.
Corridor Resources, which is actively pursuing New Brunswick's shale gas potential, sees large, relatively unexplored resource potential in the province. The company is exploring the Frederick Brook shale gas play in the McCully/Elgin exploration and development area.
The Frederick Brook play is estimated to have 67 Tcf gross discovered resources, while the McCully field is estimated to hold 121 Bcf 2P reserves of Hiram Brook gas.
Besides local opposition to shale exploration, New Brunswick's shale gas development also is threatened by low natural gas prices and the U.S. shale gas boom, according to a CBC news report. Higher gas prices are needed to make drilling for shale gas in New Brunswick economic, and the abundance of shale gas in the U.S. means that gas exports from Canada may soon be curtailed.
Campbell noted the lack of demand in the U.S. for Canadian gas is not as much of an issue as gas reserves offshore Nova Scotia are winding down in the next few years and fairly robust industrial demand for gas exists in New Brunswick.
"In addition, the residential markets have not seen the uptake of natural gas that was expected as only about 30 percent of the homes passed by natural gas are using it despite a regulated lower price compared to alternative energy sources," Campbell said.
"However, companies active in shale exploration in New Brunswick, including SWN Resources Canada, whose parent company is Houston-based Southwestern Resources, could pull out of New Brunswick and move investment elsewhere if they think the environment here is hostile."
Generated by readers, the comments included herein do not reflect the views and opinions of Rigzone. All comments are subject to editorial review. Off-topic, inappropriate or insulting comments will be removed.