Conoco Studying North America's Gas Export Potential
by Ross Kelly
|
Dow Jones Newswires
|
Thursday, December 08, 2011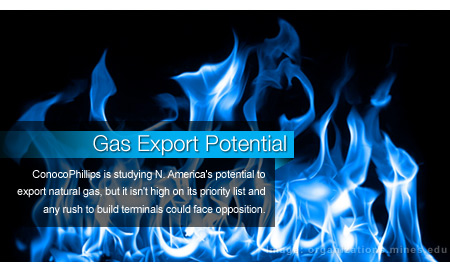 BRISBANE (Dow Jones Newswires), Dec. 8, 2011
ConocoPhillips is studying North America's potential to export natural gas, but it isn't high on its priority list and any rush to build terminals on the U.S. coast could face opposition from Washington, Al Hirshberg, the company's Senior Vice President, Planning and Strategy, said Thursday.
Production of shale gas, which is trapped in dense rock formations, is continuing to depress U.S. gas prices and some forecasters are
predicting this could encourage U.S. gas producers to liquefy gas for export in large terminals to earn higher prices.
Cheniere Energy recently signed two long-term gas supply deals with offtakers, including BG Group, as it presses ahead with plans to build an LNG export terminal in Sabine Pass, La., which would be the first in the U.S.
Hirshberg said he expects some gas to be exported from the U.S., but he doesn't expect the world's biggest economy to become a major player in the global gas export market in the near term.
"I just don't see it," Hirshberg said. "Five years from now Queensland will be a major spot on the map, as well as Western Australia in terms of LNG export, and the U.S. Gulf coast won't be, that's my prediction."
Conoco is among a host of big oil companies planning to build about a dozen LNG projects in Australia's Queensland and Western Australia states, and its Northern Territory, to feed a projected surge in demand for cleaner-burning fuels from Japan, South Korea and rapidly industrializing economies like China.
Hirshberg said it could be in the U.S. government's interest to limit gas exports, as the current shale gas boom is assisting a fragile
economy by keeping energy prices low.
"Canada's a little different," he told Dow Jones Newswires in an interview. "The gas in Canada is stranded, it really doesn't have access to a market so spending the money to liquefy it and get it ready for export is going to make long-term sense."
U.K.-based gas consultancy Wood Mackenzie says the U.S. could be exporting 20 million metric tons of LNG as early as 2018.
Qatar is the world's biggest exporter of LNG, with capacity to ship around 77 million tons each year. But if all the projects in Australia get build, it will produce well over 100 million tons a year, easily surpassing Qatar, which currently has all new LNG developments on
hold.
Conoco wants to ship LNG from its US $14 billion Queensland joint venture with Origin Energy and China Petrochemical Corp. by 2015.
It's also involved in a separate drilling campaign offshore northern Australia with Karoon Gas Australia.
The first stage of the campaign turned up promising results, and Hirshberg said the first well in the second phase will be spudded
mid-January with more wells drilled soon afterwards.
Confirmation of large resource means the company could combine with other discoveries in the Browse Basin such as Caldita Barossa to expand the operating Conoco-operated LNG plant at Darwin, Hirshberg said, adding a smaller resource would be more suitable for a floating LNG facility.
Copyright (c) 2011 Dow Jones & Company, Inc.
Generated by readers, the comments included herein do not reflect the views and opinions of Rigzone. All comments are subject to editorial review. Off-topic, inappropriate or insulting comments will be removed.
RELATED COMPANIES