The Great Crew Change: Petro-Opportunities for Veterans Abound
by Barbara Saunders
|
Rigzone Contributor
|
Thursday, December 08, 2011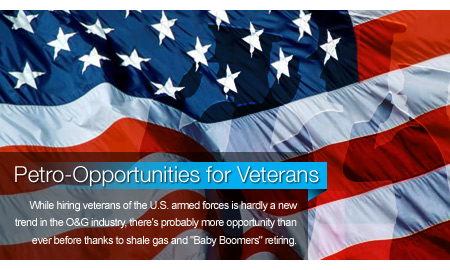 While hiring veterans of the U.S. armed forces is hardly a new trend in the oil and natural gas industry, there's probably more opportunity than ever before, due to the explosive growth in the shale sector and the need to replace "Baby Boomers" nearing retirement age.
Opportunities for veterans include:
Drilling rig or rig service jobs
Transferring skills from related military specialties, such as quality assurance/quality control, mechanic and technician jobs or accounting and administrative jobs
Hiring of veterans with direct, prior petro-experience and/or education
"We definitely target the armed forces in our recruiting," said Daryl Hood, Schlumberger North American Technical Recruiting Manager, in an article on the www.recruitmilitary.com website.
"We've found that those veterans who come to us with technical experience get up to speed quickly and find a lot of success at Schlumberger."

Hood added that the technical training, maturity, and discipline of veterans are challenging to locate elsewhere.
Another web site, www.veteranstoenergy.com, sponsored by a host of oil and gas companies, provides a detailed listing of the types of jobs available – and the corresponding military classifications that provide good background for each category. The categories are accounting and finance, administrative services, engineering, general labor, geosciences, government and regulatory affairs, health, science and the environment, human resources, land management, planning and evaluation, skilled crafts person, semi-skilled crafts person and technician.
"Yes, we do see quite a bit of interest for veterans," said Volker Rathmann, president of Collarini Energy Staffing. "It's not just the technical skills but the discipline the enlisted person brings that's quite appreciated."
Rathmann continued: "It is not always easy to make a match though. Companies are looking for five years of recent experience."
Collarini's clients are oil field operators and focus primarily on professional opportunities requiring college degrees and generally, at least five years recent experience. Rathmann believes that there are probably more opportunities in service companies (such as Schlumberger, Baker Hughes, Halliburton, Weatherford, Rowan, Diamond Offshore) for newcomers and people with less recent experience. Indeed, service companies typically offer training programs for people just coming into the industry in entry-level, manual occupations.
Yet there are exceptions. "What we are seeing are folks returning from Iraq with experience in helping to redevelop the Iraqi oilfields. Something specialized like that is in demand."
Also in demand are veterans with quality assurance/quality control (QA/QC) backgrounds, Rathmann said.
"Exceptional QA/QC people who know how to work around oilfields is a sought-after skill area." He also recommended "good old-fashioned networking."
Still another option available to veterans is to apply GI-bill benefits to furthering education and training for oil and gas-related jobs. The U.S. Department of Veterans Affairs (VA) emphasizes that the GI Bill now covers expenses for many non-college degree programs. These include on-the-job training, apprenticeships and even some correspondence programs.
The VA, in conjunction with the U.S. Department of Labor (DOL), also offers the Veterans Retraining Assistance Program (VRAP) for unemployed veterans. The new program, which just took effect in July, provides retraining for unemployed veterans between the ages of 35 and 60, which have been the hardest hit by current economic conditions.
The program is limited to 54,000 participants from October 1, 2012, through March 31, 2014. Participants must be enrolled in a VA-approved program of education offered by a community college or technical school. The program must lead to an associate degree, non-college degree, or a certification, and train the veteran for a high-demand occupation. Many jobs in the petroleum industry qualify.