Paper Studies Chinese-Sub-Saharan Africa Trade Relations
by Karen Boman
|
Rigzone Staff
|
Thursday, December 08, 2011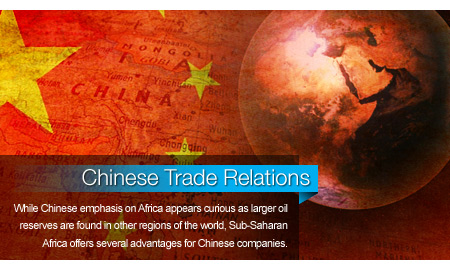 (This article is part 3 of a 3-part series on Opportunities in China.)
China's growing economy and energy demand has prompted speculation that China is targeting sub-Saharan Africa, as a number of deals between Chinese oil companies and sub-Saharan African governments have been struck, said Richard Stoll, Rice scholar at the Baker Institute and Albert Thomas professor of political science at Rice.
While Chinese emphasis on Africa appears curious as larger oil reserves are found in other regions of the world, Sub-Saharan Africa offers several advantages for Chinese companies, including:
Light sweet crude oil reserves, which a number of Chinese refineries are configured to handle
Lower transportation costs over water
Production sharing agreements in which oil companies do not have to share revenues with the host government until after companies have recovered initial costs
Lack of membership in OPEC
Offshore fields away from potential sites of internal unrest
Most known reserves are already locked up
"It appears to many that China is particularly focused on countries in this region that have oil," Stoll noted. "And there is plenty of evidence that supports this assertion."
However, while Chinese trade with Africa as a whole grew by more than 350 percent from the 1990s to the 2000s, Africa moved from 1 percent of total Chinese trade to 1.7 percent of total Chinese trade. Meanwhile, Chinese trade with the number one ranked region, Asia, increased from 39 percent of total trade to 42 percent.
China's growing energy needs means that Chinese involvement in Africa will increase, and that China is becoming a more important international actor and competitor for the U.S. But both countries share a number of comment interests, including a prosperous and growing world economy.
"This forms a significant basis for a cooperative (although wary) relationship," Stoll said. "Only time will tell if the positive aspects of the U.S. Chinese relationship will outweigh the competitive elements."
Go Back to Part 1: China Oil Demand Growing Despite Gov't Demand-Management Policies
Go Back to Part 2: Despite Difficulties, China to Continue to Invest Abroad
Generated by readers, the comments included herein do not reflect the views and opinions of Rigzone. All comments are subject to editorial review. Off-topic, inappropriate or insulting comments will be removed.