Despite Difficulties, China to Continue to Invest Abroad
by Karen Boman
|
Rigzone Staff
|
Thursday, December 08, 2011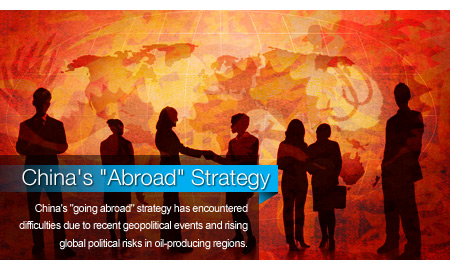 (This article is part 2 of a 3-part series on Opportunities in China.)
Chinese energy companies have been making significant overseas investments in oil and gas, and the "going abroad" strategy has encountered difficulties due to recent geopolitical events and rising global political risks in oil-producing regions, said Amy Myers Jaffe, a study author and the Wallace S. Wilson Fellow for Energy Studies at the Baker Institute.
"China is learning that owning equity oil in risky regions may not be as effective an energy security strategy as it had previously imagined," Myers Jaffe noted, adding that Chinese companies have been targeting the U.S. and Canada for investment as the countries are less politically risky.
However, China's growing domestic energy needs means it will continue to invest in oil and gas resource development projects worldwide, including Latin American oil and gas.
China imported 24.1 million tones of oil from Latin America in 2010, and while oil sourced from Latin America represents a small percentage, China is aggressively pursuing Latin American oil and gas through loan packages in Venezuela, Brazil, Argentina and Ecuador, said David Mares, Baker Institute scholar for Latin American Energy Studies at Rice.
China's approach to doing business in Latin America is going beyond commercial and contractual relationships to establish unconditional friendships that are win-win situations for both parties.
However, Latin American countries see China as a business partner and competitor to be treated like everyone else who invests, including occasional forced renegotiations of contract.
"China has not wanted to get involved in the local politics of the countries it invests in, and is still transitioning towards understanding" that this is unavoidable, said Mares.
The loan aid packages that China has been granting to Latin American countries in exchange for oil and gas resource access, in some cases, may perpetuate corruption within Latin American governments as well as undermine democracy in these countries, Mares said.
"If money received by these governments is transparent, it must be invested for the public good," noted Mares. "If it's not transparent, governments can do whatever they want with the money, including paying off supporters or organizing against the opposition." Chinese economic aid packages may also allow governments to continue to pursue policies that are other unsustainable.
China has aggressively pursued investment in Latin America – and appears more willing to agree to resource deals with more restraints – partly because it can raise more capital at home via corporate bonds. On the other hand, India and South Korea have been much more conservative with the investment strategies.
Go Back to Part 1: China Oil Demand Growing Despite Gov't Demand-Management Policies
Skip to Part 3: Paper Studies Chinese-Sub-Saharan Africa Trade Relations
Generated by readers, the comments included herein do not reflect the views and opinions of Rigzone. All comments are subject to editorial review. Off-topic, inappropriate or insulting comments will be removed.