China Oil Demand Growing Despite Gov't Demand-Management Policies
by Karen Boman
|
Rigzone Staff
|
Thursday, December 08, 2011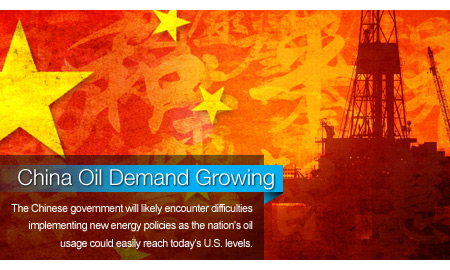 (This article is part 1 of a 3-part series on Opportunities in China.)
The Chinese government will likely encounter difficulties implementing its comprehensive energy policy -- which includes efforts to discourage oil use and encourage use of more natural gas and renewable energy -- and the nation's oil usage could easily reach levels comparable to today's U.S. levels by 2040, according to a recent study by Rice University's Baker Institute.
The government's efforts to cut oil usage via sporadic government policies to discourage private car ownership and boosting the number of electric cars on the road will save 800,000 bpd over a 30-year period, but won't move the needle in terms of oil demand, Amy Myers Jaffe, a study author and the Wallace S. Wilson Fellow for Energy Studies at the Baker Institute, said during a day-long presentation at Rice on Dec. 2.
The study, "The Rise of China and Its Energy Implications," found that China's recent efforts at centralizing energy policy do not appear to be significantly more successful than the makeshift patchwork of energy initiatives devised by the U.S. In fact, the U.S. system is attracting Chinese state investment in the U.S. and prompting the Chinese government to consider further opening its oil and gas exploration activities to partnerships with U.S. firms.
The number of cars on China's roads has more than quadrupled in recent years to more than 50 million, and could grow to more than 200 million vehicles by 2020 and 770 million by 2040 under a scenario where China's real gross domestic product growth averages 6 percent between now and 2030.
Even if China increases the number of electric cars to 5 million a year by 2030, in line with targets announced by China's National Development and Reform Commission, China's oil use from the transportation sector will grow significantly.
Unlike the U.S., where President Obama wouldn't tell us to turn the thermostat down, the Chinese government has cut off power to a local government when it had met its energy target, forcing them to go off the grid and run diesel fuel generators to meet its power needs, Myers Jaffe said.
Both the U.S. and China are rich in unconventional gas resources, but faces technical, regulatory and market infrastructure challenges that are likely to delay rapid development. If China could ramp up shale investment more quickly, it could greatly reduce the country's expected large import needs for liquefied natural gas from Australia and the Middle East and contribute to a future glut in global gas markets.
Relations between the U.S. and China are one of strategic ambiguity. Myers Jaffe said that the U.S.'s exceptionalism and China's national destiny outlooks put them at odds with each other, but that cooperation and dialogue between the two countries should be opened, as the two countries face similar problems.
Continue on to Part 2: Despite Difficulties, China to Continue to Invest Abroad
Skip to Part 3: Paper Studies Chinese-Sub-Saharan Africa Trade Relations
Generated by readers, the comments included herein do not reflect the views and opinions of Rigzone. All comments are subject to editorial review. Off-topic, inappropriate or insulting comments will be removed.