BP Plans to Appeal Spill-Related Charges by US Regulators
by Tennille Tracy
|
Dow Jones Newswires
|
Wednesday, December 07, 2011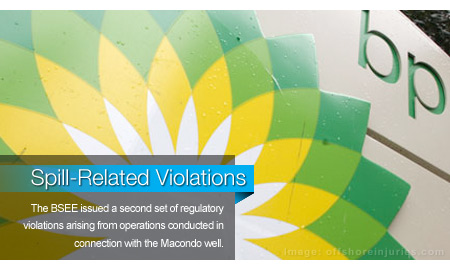 WASHINGTON (Dow Jones Newswires), Dec. 7, 2011
BP plans to appeal charges by U.S. regulators that the company broke federal rules during the Deepwater Horizon oil spill.
BP made its intentions known Wednesday after regulators issued the company a second set of charges for its role in the April 2010 spill, the worst offshore oil spill in U.S. history. The first set of charges had been issued in October.
The Bureau of Safety and Environmental Enforcement said BP failed to conduct pressure integrity tests at the Macondo well and suspend drilling operations when safety became compromised.
Responding to Wednesday's charges, BP said that "the issues raised in today's [incidents of non-compliance, or INCs] regarding drilling margins and related integrity testing played no causal role in the accident. BP intends to appeal these INCs, as well as those issued several weeks ago."
A spokeswoman for the Bureau of Safety and Environmental Enforcement, or BSEE, declined to comment on BP's plans.
U.S. officials issued a first set of spill-related charges in October, delivering citations to contracting companies Transocean and Halliburton, in addition to BP. The move shocked the contracting industry, which typically avoids liability in such cases.
Transocean has already said it would appeal those citations and Halliburton has said it believes it is fully indemnified by BP against penalties resulting from the violations.
Federal regulators issued the citations after a months-long investigation into the cause of the Deepwater Horizon disaster.
The citations are likely to carry fines. Under the Outer Continental Shelf Lands Act, the government can collect $35,000 per day per violation. The Macondo well leaked oil into the Gulf of Mexico for 87 days before it was sealed in July 2010.
Since the spill occurred, the fines have been raised to $40,000.
The fines themselves are unlikely to hurt the companies' bottom lines. But the citations brand the companies as rule violators, which could weaken the companies' position against victims of the spill.
Copyright (c) 2011 Dow Jones & Company, Inc.
Generated by readers, the comments included herein do not reflect the views and opinions of Rigzone. All comments are subject to editorial review. Off-topic, inappropriate or insulting comments will be removed.
RELATED COMPANIES