Marathon Oil Tags $4.82B for 2012 Capex
by Melodie Warner
|
Dow Jones Newswires
|
Wednesday, December 07, 2011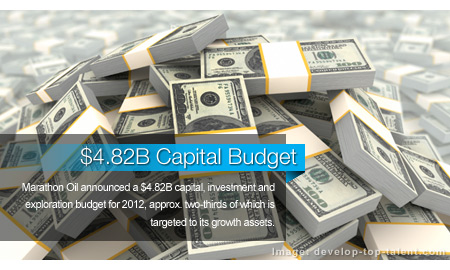 (Dow Jones Newswires), Dec. 7, 2011
Marathon Oil plans to spend about $4.82 billion next year for its capital, investment and exploration expenses as the company continues to focus on its liquids-rich, growth assets.
Nearly half of the company's 2012 capital budget is designated for ramping up its operations in the Eagle Ford shale, a promising natural-gas and oil-bearing rock formation in south Texas.
Chairman and Chief Executive Clarence P. Cazalot Jr. said the budget "highlights our continued focus on the liquids-rich U.S. resource plays that will provide the greatest amount of the company's projected 5% to 7% compound average production growth from 2010 to 2016."
Marathon had set its 2011 capital, investment and exploration budget in February at $5.27 billion and said in August it would spend $3.9 billion, excluding discontinued operations, asset acquisitions and associated development capital.
In 2012, the company plans to spend about $900 million on its base exploration and production assets and $3 billion on exploration and production growth projects, such as the Eagle Ford shale, North Dakota's Bakken shale and the Anadarko Woodford shale in Oklahoma.
Marathon has also budgeted $275 million for its oil sands mining segment and $160 million for corporate expenses.
Last month, the company reported its third-quarter profit soared as favorable crude oil acquisition costs contributed to a 30% revenue increase.
Copyright (c) 2011 Dow Jones & Company, Inc.
Generated by readers, the comments included herein do not reflect the views and opinions of Rigzone. All comments are subject to editorial review. Off-topic, inappropriate or insulting comments will be removed.
RELATED COMPANIES