Musings: Imagining The Future for The Natural Gas Industry
by G. Allen Brooks
|
Parks Paton Hoepfl & Brown
|
Tuesday, December 06, 2011
A week ago Monday, the December natural gas futures contract traded on the CME exchange closed out its existence at $3.36 per thousand cubic feet of gas (Mcf), down $0.18 from the closing price of $3.54/Mcf posted the previous trading day, which happened to be the Friday after Thanksgiving and a notoriously light trading day. Natural gas prices had been buoyed in the period immediately before Thanksgiving by expectations that colder than normal weather over large parts of the gas-consuming areas of the country would hike demand. Futures prices were higher despite large and growing natural gas storage volumes. On that last trading day, cold weather prospects had shifted in favor of expectations for warmer than anticipated temperatures and thus depressed gas demand. The price drop, one of the largest daily corrections in a long time, brought further pain to industry participants. But as one private equity investor very active in the upstream oil and gas business put it, "It's got to change!" Yes, it will. The problem is that it could get worse!
The price drop, one of the largest daily corrections in a long time, brought further pain to industry participants
We've been spending considerable time wrestling with trying to define the natural gas industry's outlook as it is very important for this country's economy and for those people who are actively engaged in the business. Could it get worse? Can it get better? Current industry conditions reflect a certain Jekyll and Hyde quality – activity is up and growing but the price for the product is low and falling. What would it take for natural gas prices to recover? Would those actions help or hurt future industry activity?
Beyond those immediate concerns, we are wrestling with what the next phase for the industry might look like? How will the industry change as it transitions from its current state to whatever that next phase is? Will natural gas play an even greater role in our nation's power generation business? Can natural gas power a meaningful segment of our future car and truck fleet? Will the U.S. remain a natural gas importer or become a significant gas exporter? These and many other questions have been filling our head and dominating our discussions with people in the business. To try to make sense of what is happening now, but more importantly what might happen in the future, we felt we needed to step back and take a very high level perspective of the business and current trends. It meant we needed to get away from the trees that restrict our view of the forest. (It will take several articles to examine these issues and attempt to define how the future might unfold.)
So far this year, it becomes clear we have experienced two distinctly different outlooks for the industry
When we look at a chart of the price of the near-month natural gas futures contract (Exhibit 1) so far this year, it becomes clear we have experienced two distinctly different outlooks for the industry. One was predicated on optimism about a growing economic recovery coupled with anticipation for falling natural gas production. The other view was marked by a weak economy with a potential for it getting worse given global economic and credit market uncertainties, coupled with growing frustration over continuing production growth despite weak natural gas prices.
The futures price history shows that once last year's cold winter ended and gas supplies proved more plentiful than we needed, a price rout was on. Prices began recovering, however, when economic statistics suggested that the pace of the U.S. recovery was accelerating in the spring. Futures prices reached their peak at the beginning of June and began falling shortly thereafter when fears of a faltering recovery emerged. Since that price peak, the trend has been steadily downward interrupted by a few brief rallies before prices reached the low for the year on November 28th.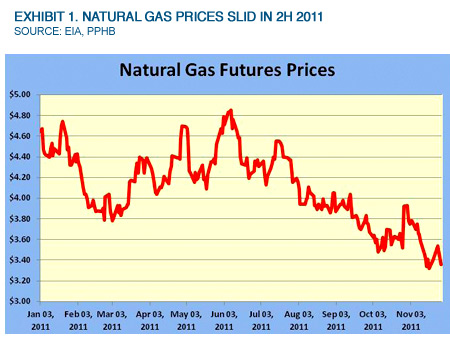 The decline in gas futures prices throughout the second half of 2011 has been marked by concerns about the deteriorating U.S. economic recovery that has sustained high unemployment, created few new jobs, generated little income growth and remains hobbled by huge federal, state and local government deficits and a weak housing market. Adding to the domestic economic woes are concerns about sovereign debt levels throughout most of Europe, the health of the global banking system and now a possible slowing of the Chinese economy. In addition to the global economic challenges are the geopolitical pressures from social and political unrest in North Africa and the Middle East, coupled with tensions over the Iranian nuclear question. Throw into the mix the upcoming national elections around the world that reflect sharp political divisions and lead to partisan politics and caustic rhetoric. All in all, the pot being stirred is large and boiling. Will an improving economic recovery in the U.S. yet be overwhelmed by the problems of Europe and possibly an economic slowdown in China? The answer to a question such as that will shape the price curve for natural gas and the industry's ability to access capital markets to continue its high spending rates of the past several years.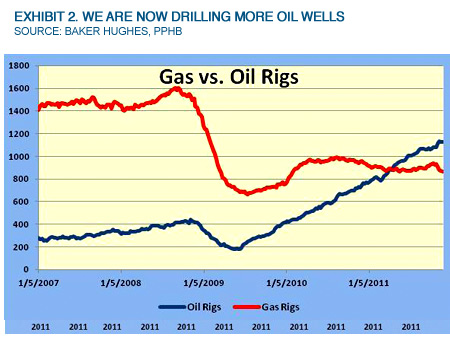 Domestic natural gas production continues to grow despite a decline in the number of drilling rigs targeting gas wells. Production growth was anticipated to be slowing or even possibly declining by now after producers began targeting shale oil and liquids-rich plays and abandoning dry natural gas drilling more than a year ago. Unfortunately, industry watchers failed to appreciate the substantial volumes of natural gas associated with these oily plays. As a result, the shift in drilling emphasis has failed to stem the rise in natural gas production. If anything, the most recent preliminary production data from the Energy Information Administration (EIA) for September, which is based on the government's form 914 survey, showed one of the largest monthly jumps in onshore Lower 48 gas production since the data series began being reported in January 2005.
The September estimate showed a 4.3 percent increase over August, and since the average number of gas-oriented drilling rigs was up month over month, this large production jump is likely accurate. The only other times when monthly production increases were about the size of the September increase happened after weather impacted production in the prior month – in March 2011 after the February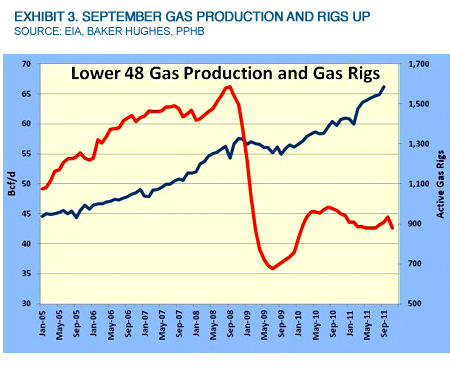 wellhead freeze-offs and in October 2008 after tropical storms and flooding limited production in many Gulf Coast states.
A critical question is why are producers still drilling gas wells when prices are weak and prospects for their improvement bleak? The short answer is money. In the mad, mad world of the gas shale revolution, corporate business strategies have been completely overhauled to emphasize building large land positions enabling companies to demonstrate that they have the potential to grow reserves and production – or in other words building larger companies.
To supplement cash flow, producers have engaged in every known trick in the finance book to boost available funds
Gas shale wells are expensive to drill and complete as well are the cost of the leases on which they are drilled. Even though initial gas production from shale wells is huge, the low price has depressed the amount of cash companies are receiving. As a result, producers are spending well in excess of their cash flows. To supplement cash flow, producers have engaged in every known trick in the finance book to boost available funds. These tactics include hedging forward future production whenever high prices are available, tapping Wall Street to raise equity and debt, and seeking out relationships such as joint ventures with larger, and often foreign, oil and gas companies.
In order to access Wall Street capital, producers have needed to demonstrate that they are being successful in exercising a strategy for aggressive wealth creation. That means aggressively buying acreage and drilling wells. Exercising a successful strategy often creates a vicious cycle – more acreage and wells equals increased production and depressed prices. This cycle will continue as long as the music (Wall Street's money) continues to flow. Once that stops, we will see how many producers can find a chair in the room. In the meantime, the fun continues!
It does seem, however, that certain funding sources are becoming less accommodating. Producers who were actively seeking joint venture partners are finding fewer candidates available, even though one venture involving a Canadian company and a Chinese company was announced last week. Importantly, though, the joint ventures entered into over the past several years are beginning to wind down so the amount of financial support for leasing new acreage and drilling more wells may be about to start on a permanent decline. The data in Exhibit 4 comes from a slide shown at a recent Platts industry conference and shows many of the large shale gas joint ventures and when they end.
A recent research article on the outlook for aspects of the oilfield service industry authored by Bernstein Research showed a chart (Exhibit 5) with their estimate of the amount of money that has come from industry joint ventures along with a forecast for 2012. The chart shows a peak in joint venture funding this year with declines projected for each of the next two years.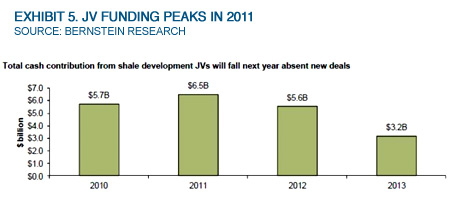 Another source of incremental cash funding for the industry over the past several years has been the ability to hedge future production at higher than current spot prices. That opportunity also appears to be disappearing. A Platts slide (Exhibit 6) showed how many months forward a producer had to go in order to hedge production at $5/Mcf or greater since 2009. As the chart shows, a producer used to only have to go out about 24 months. This year that time frame has extended out to at least 54 months.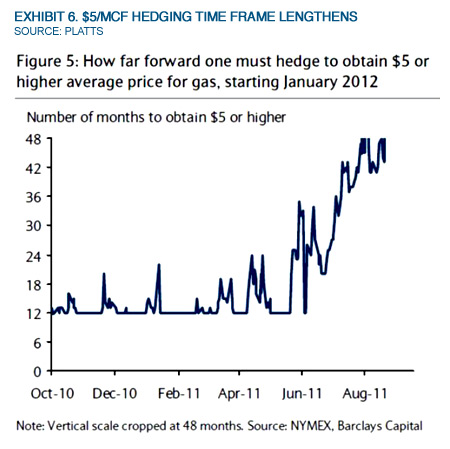 Because the futures market is volatile, we looked at a recent forward price curve and found that a producer has to go out 36 months, or to December 2014, to find the first monthly price of $5/Mcf or more. Since that month is in the height of the winter, we looked further out to find when prices are sustained above that $5/Mcf threshold. One has to look into 2016 to find that period, which happens to be in the range of 54 months from now. Meaning producers will have a tougher time raising capital through hedging operations. According to Platts, today the percentage of year-forward production hedged by producers is the lowest it has been in the past three years.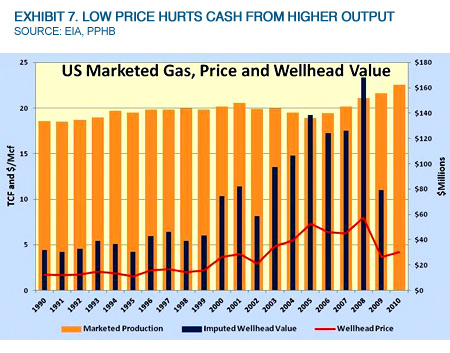 From a big picture point of view, one can see how low gas prices have negatively impacted the revenue from existing production even though production is growing and continues to grow. With less opportunity to bolster cash flow from hedging and joint venture cash, a likely decline in gas drilling appears on the horizon as the ability to tap Wall Street markets for additional capital also has become limited. Oil and gas capital spending surveys for next year will be announced soon and we will begin to gain an understanding of the willingness of producers to continue on their high-octane drilling pace. For a thirsty stranger in today's natural gas desert, we sure hope what we see on the horizon is not a mirage.
Generated by readers, the comments included herein do not reflect the views and opinions of Rigzone. All comments are subject to editorial review. Off-topic, inappropriate or insulting comments will be removed.