US Shale Gas Poses New Challenge to Shtokman
by Jacob Gronholt-Pedersen
|
Dow Jones Newswires
|
Tuesday, December 06, 2011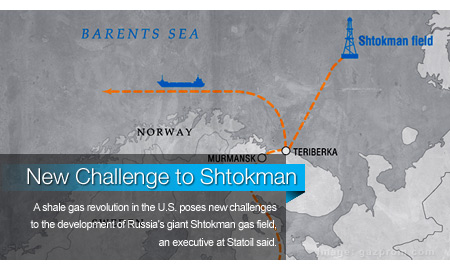 MOSCOW (Dow Jones Newswires), Dec. 6, 2011
A shale gas revolution in the U.S. poses new challenges to the development of Russia's giant Shtokman gas field in the Barents Sea, an executive at Norwegian energy major Statoil said Tuesday, just weeks ahead of a deadline to make a final investment decision.
The Shtokman project, which is 51%-owned by Russian state gas firm Gazprom, with Statoil and France's Total as minority shareholders, has been delayed on several occasions due to high costs and uncertainty on global energy markets.
"We are seeing a challenging gas market in Europe, the main reason being the shale gas revolution in the U.S. This has had a tremendous effect on the gas and LNG industry globally," said Jan Helge Skogen, head of Statoil in Russia.
"Shtokman was from the beginning required heavy and very large investment. This has become even more challenging over the recent year," he said.
The comments come as shareholders are awaiting necessary tax breaks from the Russian government, as they prepare to make a final investment decision by the end of the year.
"We are now communicating to the Russian government the need for exemption from mineral extraction tax and from gas export duties. I know that this is to ask a lot, but today we see this as the only way to move this project further," Skogen said.
Gas from the gas condensate field located 650 kilometers north of Murmansk will both be piped to European consumers and shipped on tankers to global markets as liquefied natural gas.
"Shtokman is today primarily an LNG project and is part of a strategy in Russia to develop its LNG business," said Skogen. "But when all three phases are in place, Shtokman will mainly be an LNG project."
Copyright (c) 2011 Dow Jones & Company, Inc.
Generated by readers, the comments included herein do not reflect the views and opinions of Rigzone. All comments are subject to editorial review. Off-topic, inappropriate or insulting comments will be removed.