Barclays: 2012 E&P Spending to Approach $600B; Early Estimates Conservative
by Karen Boman
|
Rigzone Staff
|
Monday, December 05, 2011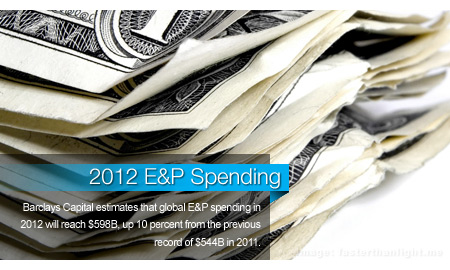 Barclays Capital estimates that global exploration and production (E&P) spending in 2012 will reach $598 billion, up 10 percent from the previous record of $544 billion in 2011.
Increased E&P spending during 2012 will largely be led by international markets with $438.8 billion, an 11 percent increase, while North America E&P spending in 2012 will rise 8 percent to estimated $159.7 billion.
Forecast spending increases are down from international spending growth of 20 percent and 31 percent in North America in 2011, but Barclays sees "considerable upside" to its current spending forecasts.
"The figures are somewhat misleading because companies are being conservative with their forecasts," said James C. West, Barclays' analyst for U.S. oil services & drilling and author of the study. "Internationally, we believe higher spending could arise from the resolution of the economic crisis in Europe, a resumption of activity in certain North African countries and oilfield service cost inflation," said West.
Domestic U.S. spending also could be revised higher dependent on the pace of the acceleration of drilling activity in the Gulf of Mexico and as companies gain confident in the oil price.
Oil prices continue to drive the capital spending increase, with oil and gas companies in aggregate basing 2012 capital spending budgets on an average oil price of $87 WTI and $98 Brent, lower than current WTI and Brent prices of $101 and $110, indicating that "oil and gas companies are likely taking a conservative view on oil prices, given the uncertain economic environment," West noted.
"Recent exploration successes in various regions of the world confirm our view that exploration is likely to be at the forefront of spending growth in 2012," said West. "In 2010, 32 percent of respondents planned on increasing the percentage of the budget dedicated to exploration. This percentage grew to 38 percent in 2011 and [is expected to grow to] 42 percent in 2012."
Supermajors will increase spending by 10 percent internationally and by 25 percent in North America. ExxonMobil will remain the largest capital spender in 2012, but Petrochina is gaining ground. Brazilian state energy company Petrobras could close the gap in the next several years, Barclays said, adding that Chevron is also aggressively increasing its spending.
Latin American Companies to Lead International Spending Again in 2012
Latin American companies are expected to lead spending again in 2012, with regional capital spending increasing by 21 percent versus 26 percent growth in 2011. Aggressive capital spending by Mexico's state energy monopoly PEMEX, which is seeking to reverse decline rates from major oil fields, will help boost Latin American E&P spending, along with spending plans by Petrobras, which is pursuing a multi-year development plan for its pre-salt reserves, and increased spending by Colombia's Ecopetrol.
African E&P spending will increase 14 percent in 2012 as civil unrest and political disruptions in North Africa and other areas abate and the supermajors begin work on large projects and new discoveries in emerging basins in East and West Africa.
Record spending in Norway, where Statoil and Lundin Petroleum have announced recent major discoveries have resulted in an increased appetite for exploratory work, will lead higher European E&P expenditures in 2012 with a 13 percent increase forecast.
Middle East E&P spending is expected to rise 12 percent next year due to a pickup in activity in Iraq, Saudi Arabia and Kuwait.
"We see Iraq as the most exciting from the oil fields services view, with a $2 billion market that could become a $8 billion market in four to five years," said West.
Saudi Arabia is expected to continue moving forward with plans to boost drilling activity as the country is expected to have an increasingly difficult time boosting exports due to escalating domestic demand, tightening service capacity and dwindling spare capacity. Kuwait also is expected to boost spending as part of its five-year $25 billion budget set at year-end 2010.
One surprise in the survey was plans by Russia-based Lukoil to invest $48 billion through 2014 to boost production, including $14 billion earmarked for 2012.
"During election years in Russia, we've typically seen spending a little bit up and down," said West.
Spending also is expected to rise by 7 percent in India, Asia and Australia in 2012, but the results are skewed somewhat by lower spending for select large companies due to the completion of several large projects, including Woodside and PTT Exploration and Production. Asian companies also are investing heavily in the North American market, shifting funds that might have been invested in Asia overseas.
North American Spending to Remain in High Single Digits through 2015
Fifty-four percent of the companies surveyed said oil prices were the biggest factor influencing their North America E&P spending plans in 2012; 47 percent of those surveyed said natural gas prices were the main driver behind spending plans, while 46 percent said cash flow was the most important factor behind spending.
"We believe the shift in key determinants to oil prices is linked, in part, to the change in the North American market," said West. "While oil prices may fluctuate, we believe companies will continue to drill as long as it is economic and they have the cash flow to support drilling."
North America has been a short-cycle market characterized by volatile swings in activity, but the shift towards oil-directed and liquids rich activity is reducing the cyclicality in the region and will result in more consistent and growing spending levels.
"Long-term and across cycles, we expect spending growth in North America to remain in the high single digits through 2015," West noted.
North American natural gas drilling will continue to decline in 2012 due to low gas prices and high supply, but major oil companies will continue to take large positions in unconventional gas plays.
"While natural gas prices are expected to remain weak in the intermediate term, oil majors are taking the 15-20 year view and expect gas prices will come back," especially as the U.S. becomes an LNG exporter and domestic use of gas to fuel cars becomes more prevalent, said Paul Horsell, head of commodities research and Barclays.
The majority of companies surveyed plan to increase spending in the Permian Basin in West Texas, which is mainly an oil play, by 20 percent, and will increase expenditures in the Midcontinent, Bakken and Marcellus plays.
The uptick in North American unconventional oil activity means that oil service equipment capacity will likely remain tight in 2012. Barclays believes that both the U.S. and Canadian stimulation markets remain currently undersupplied by as much as 20 percent, and despite a significant amount of capacity expected to enter the market throughout the year, market activity is likely to continue to outstrip supply.
Generated by readers, the comments included herein do not reflect the views and opinions of Rigzone. All comments are subject to editorial review. Off-topic, inappropriate or insulting comments will be removed.
MORE FROM THIS AUTHOR
Karen Boman
Senior Editor | Rigzone