ConocoPhillips Boosts 2012 Capital Spending to $15.5B
by Isabel Ordonez & Nathalie Tadena
|
Dow Jones Newswires
|
Friday, December 02, 2011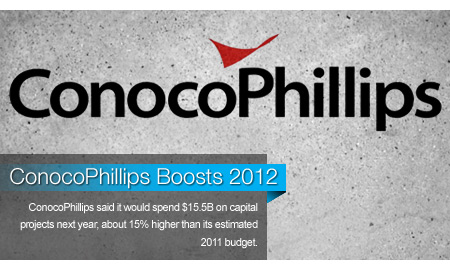 HOUSTON (Dow Jones Newswires), Dec. 2, 2011
ConocoPhillips said its 2012 capital program will be higher than it previously projected, a sign the oil giant is confident oil prices will remain high and that its restructuring plan is advancing on schedule.
The Houston-based company said it would spend $15.5 billion on capital projects next year, about 15% higher than its estimated 2011 budget and slightly higher than the $14 billion to $15 billion 2012 spending target it had provided in July.
Conoco's spending boost is expected to be echoed in coming weeks by other major oil companies such as ExxonMobil and Chevron, which are set to invest next year at record levels as they fund multi-billion-dollar liquefied natural gas projects in the Asia Pacific region and a string of massive deep-water projects worldwide. Conoco's 2012 capital budget of $15.5 billion marks a return to the level of investment the company had before 2009, when it slashed its spending plans by almost 40% due to the collapse in oil prices that followed the economic recession.
ConocoPhillips also said it got approval from its board to engage in a $10 billion share repurchase program to be funded mainly with proceeds from the assets the company expects to sell next year as part of its restructuring plan. Conoco reiterated it expects to buy back $11 billion in stock this year as part of an initial $15 billion share repurchase plan it approved in 2010.
Conoco is in the midst of a three-year repositioning aimed at shoring up finances and making itself more attractive to investors. The plan includes the sale of $15 to $20 billion in assets, large-scale share buybacks and the spin off of its refining arm, expected to be completed next year.
The company said Friday it expects to have sold $10.5 billion in assets as part of the program by the end of the year. That is on top of the $9.5 billion it obtained from the sale of its interest in Russia's oil giant Lukoil.
ConocoPhillips said about 90% of its 2012 capital expenditures will go towards its exploration and production segment. The refining and marketing segment represents 8% of planned expenditures, to be done by a separate company, Phillips 66, starting in the second quarter of 2012.
The bulk of Conoco's exploration and production capital program will be spent in North America. The company plans to increase spending in oil-rich areas in the U.S. Lower 48, such as the Eagle Ford and Barnett shales in Texas and the Bakken shale in North Dakota. Conoco said it will raise its spending in its oil sands projects in Canada but that it will slightly reduce investing in Alaska.
Outside North America, Conoco plans to focus investment in an Australia Pacific LNG joint venture, as well as in the development of new fields offshore Malaysia and Indonesia, the company said. In the North Sea, Conoco plans to spend in existing and new opportunities in the Greater Ekofisk Area, the Greater Britannia fields and development of the Jasmine and Clair Ridge projects, the company said.
Copyright (c) 2011 Dow Jones & Company, Inc.
RELATED COMPANIES