GOM Escapes Another Hurricane Season
by Jaime Kammerzell
|
Rigzone Staff
|
Friday, December 02, 2011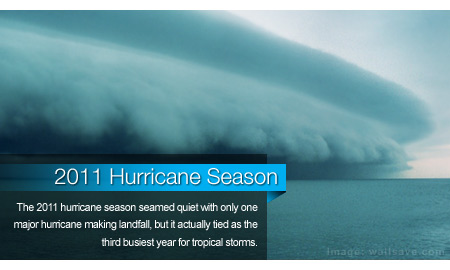 The 2011 hurricane season seamed quiet with only one major hurricane making landfall, but it actually tied with 1887, 1995 and 2010 as the third busiest year for tropical storms. Only 1933 and 2005 had more named storms since record keeping began in 1851. The Atlantic produced 19 named storms and seven hurricanes, three of which reached Category 3 or higher, compared to the average 10 named storms and six hurricanes.
The hurricane season officially runs from June 1 through November 30. Eight tropical storms kicked off the season, but none reached hurricane strength, which is a record.

2011 STATS*
19 Named Storms


7 Hurricanes


3 Major Hurricanes


3rd Busiest Season on Record


6th Year in A Row That No Major Hurricane Made Landfall on The US.
"We had a near-average number of hurricanes in 2011–seven–meaning that only 37 percent of this year's named storms made it to hurricane strength," Dr. Jeff Masters wrote on his WunderBlog. "Normally, 55 to 60 percent of all named storms intensify to hurricane strength in the Atlantic."
Masters attributes the near-record ocean temperatures and unusually dry, stable air over the Atlantic as a possible reason for so many named storms in 2011.
As reported on May 27, Weathering The Storm: Above-Normal Hurricane Season Predicted, Colorado State University's pre-season prediction of 16 named storms fell short of the actual 19 named storms. The institution also forecasted that nine of those systems would become hurricanes and five would be major hurricanes. The actual number of 2011 storms also exceeded NOAA's initial May forecast that called for 12 to 18 storms to form. In August, NOAA upgraded its prediction from 14 to 19 storms, with 10 becoming hurricanes and three to five achieving major status.
Hurricane predictions are just that – predictions, not exact science.
Hurricane Irene, the 9th storm of the season, wrecked havoc on the Atlantic coast from North Carolina to Vermont. The Category 1 storm caused at least 45 deaths and widespread destruction totaling about $7 billion. Irene was the deadliest and costliest hurricane since Ike came ashore near Galveston, TX, in September 2008.
Aside from Irene, Hurricane Rina also disrupted life in the US. Rina, which formed in late October, weakened as it moved over the Yucatan Peninsula and dumped several inches of rain on Florida. As it moved up the East Coast, it fed into a cold front from Canada and caused a nor'easter on October 29, which dumped record snow accumulation across the Mid-Atlantic and New England just in time for Halloween.
GOM Storm Watch
Though the 2011 hurricane season did see its fair share of activity, the GOM was quiet compared to previous years. Only twice did BOEMRE evacuate rigs.
Tropical Storm Don arrived in late June. BOEMRE called for the evacuation of platforms and rigs on July 28. At its peak, "personnel evacuated 62 production platforms, which is about 10 percent of the 617 manned platforms in the GOM," a BOEMRE report stated. "Personnel evacuated two rigs, equivalent to 3.2 percent of the 62 rigs currently operating in the Gulf" at the time. According to operator reports, BOEMRE "estimated that approximately 10.9 percent of the current oil production in the GOM was shut-in. It also estimated that approximately 6.6 percent of the natural gas production was shut-in."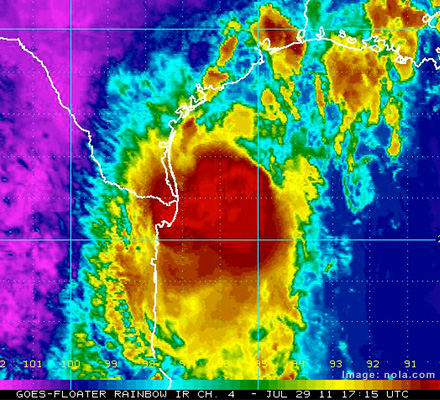 Tropical Storm Don
No platform or rig sustained any damage during the storm and 100 percent of the platforms and rigs were operational on August 1.
On September 1, BOEMRE started evacuating rigs and platforms in the GOM due to an area of tropical disturbance, which ramped up to become Tropical Storm Lee by September 3.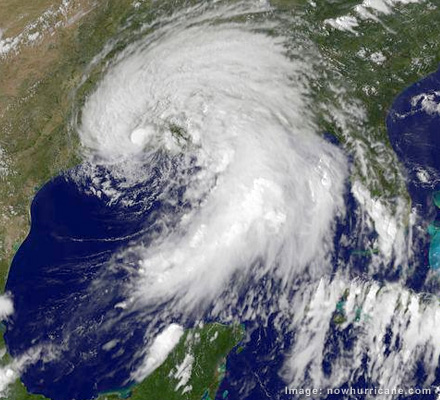 Tropical Storm Lee
At its peak, personnel "evacuated 239 production platforms, equivalent to 38.7 percent of the 617 manned platforms in the GOM," BOEMRE reported. "Personnel also evacuated 25 rigs, equivalent to 35.7 percent of the 70 rigs currently operating in the Gulf." Based on operator reports, BOEMRE "estimated that 60.2 percent of the oil production and 44.3 percent of natural gas production was shut-in." As of September 9, only four production platforms (equivalent to 0.7 percent) remained evacuated.
Generated by readers, the comments included herein do not reflect the views and opinions of Rigzone. All comments are subject to editorial review. Off-topic, inappropriate or insulting comments will be removed.