Shell Exits Syria amid Fresh Sanctions
by Alexis Flynn
|
Dow Jones Newswires
|
Friday, December 02, 2011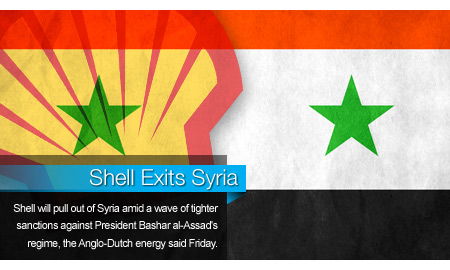 LONDON (Dow Jones Newswires), Dec. 2, 2011
Shell said Friday it will pull out of Syria amid a wave of tighter sanctions against President Bashar al-Assad's regime following his violent crackdown on protesters.
A spokesman for the Anglo-Dutch energy giant said: "Shell will cease its activities in Syria in compliance with sanctions. Our main priority is the safety of our employees of whom we are very proud. We hope the situation improves quickly for all Syrians."
The European Union Friday expanded measures against Assad's rule to include the Syrian oil and gas industry, including the state-owned General Petroleum Corp. and Syria Trading Oil, or Sytrol. Shell's local partner the Al-Furat Petroleum Co. is a joint venture 50% owned by General Petroleum Corp. By contrast, the other European major operating in the country, France's Total, is in partnership with Syrian firm Deir Ez Zor Petroleum, which isn't on the new EU blacklist.
Payments from the government for oil produced in the country, to Shell and other companies, have been interrupted as Syria's cash reserves continue to dwindle, said Kevin Lui, a director at U.K. consultancy Exclusive Analysis.
Egbert Wesselink of Dutch charity IKV Pax Christi said Shell's decision to leave Syria was likely due to a combination of sanctions and reduced payments from Syria's national oil company.
"Shell isn't really operational there right now anyway," said Wesselink, adding that Shell hasn't been paid for at least a week. "The effect of this will mean oil production will go right down," said Wesselink, pointing to the fact storage facilities at the country's export terminals are almost overflowing with crude as Syria runs out of markets to sell to.
According to a person familiar with the matter, all the crude currently being produced in Syria is being used for local consumption.
Before sanctions took their toll, Syria pumped about 370,000 barrels of oil a day, about 150,000 of it exported, according to the International Energy Agency. Those exports make up about one-third of Syria's export income--and nearly all of it is sold to Europe.
"Now sanctions are working, the European boycott is effective," he said. The country had even tried to switch to selling to Asian buyers instead, Wesselink said, but none of them were prepared to take it.
Shipbrokers who track the passage of oil globally said that exports from Syria have been virtually non-existent in the last two months, while Asian buyers spoken to by Dow Jones Newswires this week said they had no interest in lifting the country's oil.
Copyright (c) 2011 Dow Jones & Company, Inc.
Generated by readers, the comments included herein do not reflect the views and opinions of Rigzone. All comments are subject to editorial review. Off-topic, inappropriate or insulting comments will be removed.
RELATED COMPANIES