API Blasts New EPA Fracking Proposal
by Barbara Saunders
|
Rigzone Staff
|
Thursday, December 01, 2011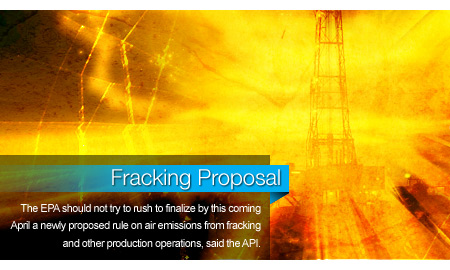 The U.S. Environmental Protection Administration (EPA) should not try to rush to finalize by this coming April a newly proposed rule on air emissions from hydraulic fracturing (fracking) and other production operations, the American Petroleum Institute (API) said during a conference call Tuesday.
Among other objections, API said that EPA did not allow sufficient time for comments on the proposed rule and is not allowing enough time to review those comments and finalize the rule. API recommended that EPA allow one year from April 2012 to publish a final rule.
While API said that it will work with the agency to modify the rule, "let's just say that it is not unprecedented for the industry to litigate an EPA rule," commented Howard Feldman, API's director of regulatory and scientific affairs. "We are concerned about the one-size-fits-all approach" for required control technologies under the proposal, Feldman added.
In a letter to EPA, API listed the following other "critical concerns" with the proposed rule:
The proposal expands listed categories and applies New Source Performance Standards (NSPS) to new affected facilities in "unprecedented ways that are outside the Agency's authority." Specifically, API said that there are NSPS sources included in the proposal "that emit little to no regulated pollutant or are construction-related emissions sources that are temporary … neither of which should be included in the rule."
The equipment prescribed to conduct reduced emission completions "will simply not be available in time to comply with the current final rule schedule." API believes that "it will take years to manufacture sufficient specialized equipment and adequately train operators how to safely conduct these operations."
EPA's cost analyses were based on "average model facilities" that do not represent all equipment and compliance costs and, without proper variability analysis to represent the wide variety of operations in the O&G industry, failed to identify when the controls are no longer economic.
The system of notifications, monitoring, recordkeeping, performance testing and reporting requirements for compliance assurance are overly burdensome for the small and/or temporary affected facilities that EPA is regulating. "This is a waste of time and resources for both industry and the EPA," API said.
Among other recommendations, API said that EPA should "allow sufficient compliance time (varying from 60 days to at least two years) to comply with the equipment-specific NSPS requirements following promulgation of the final rule. API also recommended that the agency should "revise the economic analyses to include all compliance cost and operational variables."
"These revised analyses should be used to limit the emission controls applicability to operations where they are economically justifiable," API said.
Generated by readers, the comments included herein do not reflect the views and opinions of Rigzone. All comments are subject to editorial review. Off-topic, inappropriate or insulting comments will be removed.