Swellable Packers Help Boost Hydrocarbon Recovery
by Karen Boman
|
Rigzone Staff
|
Thursday, December 01, 2011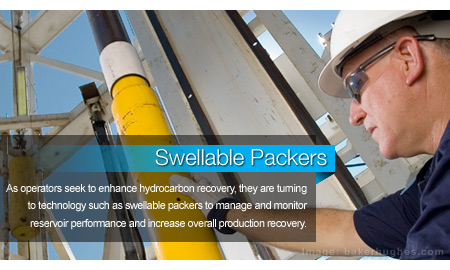 As operators worldwide seek to better monitor and enhance hydrocarbon recovery, they are increasingly turning to technology such as swellable packers to manage and monitor reservoir performance and increase overall production recovery.
Invented in the early 1990s, swellable packers with elastomers were not commercialized until around 2005 by SwellFix using a Shell proprietary osmotic process. SwellFix would later be combined in 2009 with four other portfolio companies backed by Shell to form Tendeka, which in Swahili means 'to complete'.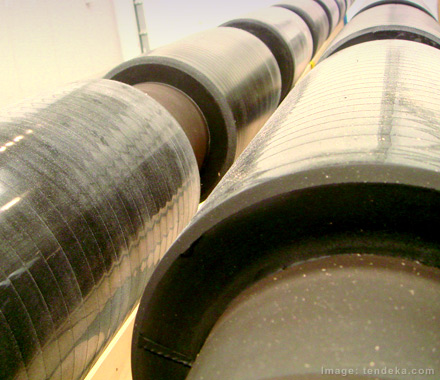 The combination would bring together digital monitoring solutions provider, Sensornet, swellable elastomer experts; Swellfix, a company of wireless well communication specialists; sand-face completion specialists Flotech; and data interpretation experts, FloQuest.
Tendeka, a completion and reservoir monitoring products company backed by Shell Technology Ventures Fund, offers swellable packers with elastomers, unlike other packers which use super absorbent polymers. Tendeka's swellable product offerings include both water and oil activated swellable packers.
Swellable packer technology is one tool being utilized by operators to isolate multiple zones in openhole wells, and ultimately to reduce well construction costs, extend well life, and improve well integrity. The demands of horizontal drilling, multi-stage fracturing and reservoir management with the use of inflow control devices requires something different for annular isolation than cement.
Before swellable packers, hydromechanical openhole packers were used to isolate water in horizontal reservoirs. Swellable elastomers can conform to a hole's shape, whether it's oblong or concentric.
"The packers will take that space and provide a pressure seal, whereas hydromechanical packers can't do that," said Ken Miller, VP of North and South America operations at Tendeka.
Tendeka's swellable packers are used primarily in horizontal reservoirs across the board, including shale plays such as the Bakken and Eagle Ford, as well as offshore. The packers provide another barrier in case cement integrity is compromised.
Swellable packers also were effectively deployed by a major North Sea operator looking to use through tubing rotary drilling to sidetrack a mature well in the UK Continental Shelf. The well was completed on time and within budget, delivering savings of more than US $10 million over a conventional sidetrack, Tendeka noted.
Tendeka also provides the full service of Inflow Control Device (ICD) design, inflow modeling and installation. Inflow modeling is performed using industry standard tools as well as our unique software modeling tool ICQuest.
The company is active worldwide, including the Gulf of Mexico and North Sea, as well as unconventional plays in North America such as the Bakken play.
Tendeka successfully deployed the world's first slimhole ICD completion in a sandstone reservoir in the Gulf of Mexico. ICDs and swellable packers were installed in a 4 1/8-inch openhole section of the well. The North Sea, Saudi Arabia and western Australia are the three largest areas in the world for ICD activity, with ICD use growing in Latin America.
Coarse metal mesh sand screens were used to minimize the plugging of sand and mud during well flowback, and the swellable packers were of a slip on sleeve design, which were simple to deploy and quick to install, Tendeka said. The new FloRight 2 3/8-inch ultra-slim hole ICD screen system was used across the 557 foot zone at a depth of over 13,123 feet.
This technology was based on a successful 3 7/8-inch openhole re-entry completion deployed by the company in the Middle East to manage water in an open hole multi-lateral horizontal oil-producing well.
Tendeka said the project was another world first in that it allowed the deployment of passive inflow control devices to manage inflow from two lateral wells connected to the motherbore. The well had reached 50 percent water cut but through the use of ICDs and swellable packers, zero percent water cut was achieved and oil production of 4.1 Mb/d versus 1.5 Mb/d before the workover.
The company also successfully deployed its retrofit wireless pressure/temperature gauge in a gas well in the North Sea. The gauge has very low power consumption and is a reliable, cost-effective alternative to cabled or failed permanent systems, avoiding the need for a workover.
Generated by readers, the comments included herein do not reflect the views and opinions of Rigzone. All comments are subject to editorial review. Off-topic, inappropriate or insulting comments will be removed.