Norway Ups 2012 Oil Investment Forecasts
by Katarina Gustafsson
|
Dow Jones Newswires
|
Thursday, December 01, 2011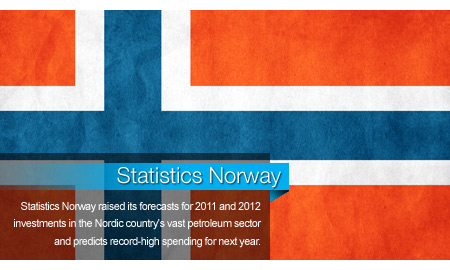 (Dow Jones Newswires), Dec. 1, 2011
Statistics Norway Thursday raised its forecasts for 2011 and 2012 investments in the Nordic country's vast petroleum sector and predicts record-high spending for next year.
This year investments are seen at 152.6 billion Norwegian kroner ($26.4 billion), NOK900 million higher than the forecast given in the third quarter and NOK19.6 billion higher than the corresponding estimate for 2010 given in November last year.
For 2012, investments are now seen at NOK184.6 billion ($32B). This is NOK12.6 billion higher than the estimate given in August and the highest level ever since Statistics Norway started collecting estimates in 1985.
High crude oil prices and many mature fields, which need upgrading, on the Norwegian continental shelf provide the backdrop for the high spending for 2012. The rise is also the result of extensive drilling plans, both within production and exploration.
The exploration activity for this year is seen at 29.2 billion while the 2012 level is seen at NOK32.4 billion.
After years of dry wells, one of the largest oil discoveries ever on the Norwegian continental shelf was found this year and Statistics Norway said this increases the will to invest in the hunt for further oil and gas finds.
"The celebrated discoveries earlier this year contribute to a greater will to invest in exploration," said the agency.
However, Statistics Norway warned that a shortage of rigs and a strong demand to use the same rigs for production drilling restrict the exploration plans.
Copyright (c) 2011 Dow Jones & Company, Inc.
Generated by readers, the comments included herein do not reflect the views and opinions of Rigzone. All comments are subject to editorial review. Off-topic, inappropriate or insulting comments will be removed.