Libya Resurgence Revives OPEC Squabble Ahead of Dec. Meeting
by Benoit Faucon & Summer Said
|
Dow Jones Newswires
|
Wednesday, November 30, 2011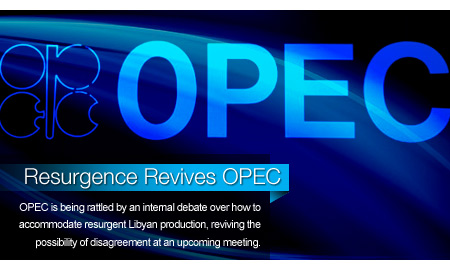 LONDON (Dow Jones Newswires), Nov. 30, 2011
OPEC is being rattled by an internal debate over how to accommodate resurgent Libyan production, reviving the possibility of disagreement at an upcoming meeting, delegates said Wednesday.
"The key is to accommodate Libyan crude," an OPEC source said.
But there is no consensus on how far-reaching the discussions on quotas and production should be, pointing to the possibility of a lively debate when the group meets on Dec 14 for the first time since June.
In recent weeks, leading OPEC figures, including Saudi Oil Minister Ali Naimi and OPEC Secretary and OPEC Secretary General Abdalla Salem el-Badri have spoken benignly of the upcoming Vienna gathering, suggesting a more low-key, consensual affair than the June meeting that ended in bitter dispute. Badri said earlier this month that he didn't expect the group to formally debate the quota ceiling until a June 2012 meeting.
But comments in recent days from rival factions within OPEC signal that tensions are again on the way up. Some OPEC officials are worried about an excess of production in the first half of 2012 in light of weakening economic indicators.
The discussions could touch not only on production increases enacted by Saudi Arabia and other Gulf countries to make up for lost Libyan crude, but also on OPEC's quota system itself. A cut to the quota system could send a stronger message to markets that production will be lower.
"A reduction of production, a continuation of production...All options are open," Iran's OPEC governor Muhammad Ali Khatibi told Dow Jones, saying he was referring to the group's official quota.
Asked if OPEC would debate about the need to reduce production for members that boosted output after Libya's disruptions, Khatibi said OPEC "will discuss the issue, it's obvious."
He said the combination of Libya's return and lower demand in the first half will be debated.
The remarks are a subtle - but significant - shift from previous comments from Iran--which holds the group's rotating presidency-- saying it saw no change in quotas in December.
On Tuesday, Libya's production exceeded half of its prewar output, surpassing the most optimistic forecasts from Tripoli.
While agreeing that "all options are still open," a senior Gulf OPEC official said the debate should be on adjusting quotas to real production--which is significantly higher than a ceiling agreed late 2008. Such a shift could mean that quotas are increased for many OPEC countries that are currently producing above their allotted share; the anticipated impact of such a shift on oil prices isn't clear.
"The current quota system is dead," the official said. "We need a credible quota system that reflects what members are producing, or at least close to the current production."
Others are taking a less radical view, saying unilateral changes should be discussed to accommodate Libya's return.
OPEC will likely be "asking members to comply" with quotas, by calling on those that boosted output when Libya was out of the market to cut it back, one Gulf source said.
But the official expects "no strict commitment" in the form of formal production allocations.
Copyright (c) 2011 Dow Jones & Company, Inc.
Generated by readers, the comments included herein do not reflect the views and opinions of Rigzone. All comments are subject to editorial review. Off-topic, inappropriate or insulting comments will be removed.
RELATED COMPANIES