Oil Majors Face Tall Order Replicating Shale Boom Overseas
by Isabel Ordonez
|
Dow Jones Newswires
|
Tuesday, November 29, 2011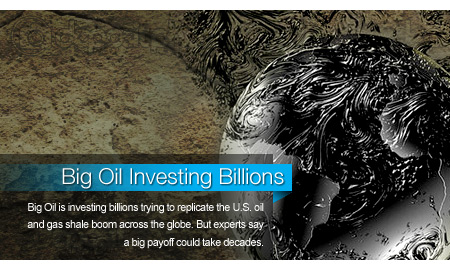 HOUSTON (Dow Jones Newswires), Nov. 29, 2011
Big Oil is investing billions trying to replicate the U.S. oil and gas shale boom across the globe. But experts say a big payoff could take decades.
In recent years, major oil companies such as ExxonMobil, Chevron, ConocoPhillips and Marathon Oil have acquired large swaths of land in Eastern Europe and Canada they believe are similar to the U.S. shale formations whose development has revived once-flagging domestic oil and gas production. Exxon Mobil said recently it is expanding its search for shale resources to Latin America and Asia, and that it could potentially develop not only shale gas but also shale oil resources worldwide.
The possibility of tapping such large new resources is a boon for major oil companies at a time when it is extremely difficult to access new reserves. If the shale phenomenon pans out globally, companies could profit handsomely, and the world's oil and gas equilibrium could change.
Regions like Eastern Europe could reduce their dependency on gas supplies from Russia while nations such as the U.S and China could also curb their dependency on oil from the Middle East. Large shale gas and oil reserves are already fueling hopes that Argentina will reduce natural gas imports and increase oil exports. Spain's Repsol said in early November it discovered more than 900 million barrels of oil equivalent in a shale formation there.
"Major oil companies are learning fast from their recent acquisitions and preparing to drill a lot of shale wells internationally," said Kenneth Medlock III, a researcher at the Rice University's Baker Institute.
In a way, these oil behemoths are playing catch-up. They were late to the shale game in North America, where scrappy independent oil companies were the first to unlock the vast amounts of oil and gas reserves trapped in buried shale rock formations using hydraulic fracturing and horizontal drilling. Exxon and Chevron bought their way in by making multi-billion dollar acquisitions in recent years, and now they plan to be the first to apply these technologies outside the U.S.
But these companies face steep challenges. First, they know very little about how much oil and gas can be technically recovered from these new shales, analysts say. Also, unlike the U.S., other countries don't have a well-developed pipeline infrastructure and the strong drilling service industry needed to perform the shale resource extraction.
In some cases, companies also have to deal with foreign-government opposition, due to concerns about the impact of large-scale shale drilling operations on the environment. France's government in May banned drilling for shale gas and oil through the process known as hydraulic fracturing and cancelled rights granted to companies to seek unconventional resources.
On the other hand, Poland is inviting international companies to drill for shale hydrocarbons there.
Some analysts doubt that major oil companies can do it. Their systematic approach for development is good for capital-intensive deepwater projects, but is a far cry from the freewheeling experimentation that helped independent companies crack the shale puzzle in the U.S.
"The super majors are exactly the wrong guys to do it because they are risk-averse," said Raoul LeBlanc, senior director at consultancy PFC Energy. "The model of one or two companies going in and applying a lot of science instead of drilling another well and seeing what happens is something that may work in the end, but it's going to take much longer."
Although oil majors like Exxon Mobil and Chevron acquired the expertise for shale drilling when they bought XTO Energy and Atlas Energy, respectively, they will still need to adapt the techniques proven in the U.S. to different types of geology, Le Blanc said.
Also, in Europe drilling costs are likely to be at least 50% higher than in the U.S. because of the scarcity of oilfield service companies, and drilling licenses will be hard to come by due to concerns about the strain shale drilling will put on water resources, said Florence Geny, a scholar at the Oxford Institute of Energy Studies. "The enthusiasm for shale is growing much faster than companies have been able to tackle those challenges," Geny said.
Companies such as ExxonMobil and Marathon Oil have acknowledged their bet on international shale could take decades to pay off, as they need to drill thousands of wells over many years before understanding the potential of these new areas. But Exxon Mobil Senior Vice President Mark Albers said at a conference in early November that the potential of unlocking new shale reserves outside the U.S. is so vast that it can't be ignored. "Challenges will be overcome with time," Albers said.
The U.S. Energy Information Administration estimated in April that shale deposits in 32 countries, including the U.S., could raise the amount of technically recoverable gas resources worldwide by over 40%. Even if a fraction of that amount is indeed tapped, "it could be very significant" for the global economy and the energy industry, says Vello Kuuskraa, president of Advanced Resources International Inc., the consultancy commissioned with the EIA shale gas report.
Copyright (c) 2011 Dow Jones & Company, Inc.
Generated by readers, the comments included herein do not reflect the views and opinions of Rigzone. All comments are subject to editorial review. Off-topic, inappropriate or insulting comments will be removed.
RELATED COMPANIES