Transocean Offers 26M Shares To Offset Aker Buy
by Angel Gonzalez and Mia Lamar
|
Dow Jones Newswires
|
Tuesday, November 29, 2011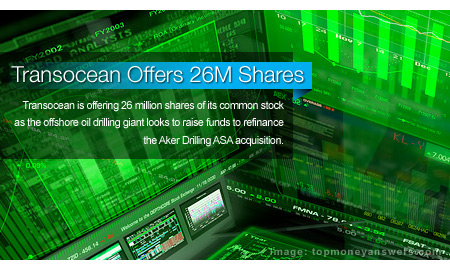 HOUSTON (Dow Jones Newswires), Nov. 29, 2011
Transocean Ltd. (RIG, RIGN.VX) said it is offering 26 million shares of its common stock as the offshore oil drilling giant looks to raise funds to help refinance a recent acquisition of a Norway-based rival.
Shares were down 8.3% to $42.11 as the company said the offering represents up to 8.9% of its total issued and outstanding shares. The move casts a pall on Transocean's $1.43 billion purchase of Aker Drilling ASA at a time when the company has been dealing with disappointing quarterly earnings, a downgrade in credit ratings, and unsettled litigation related to the Deepwater Horizon oil spill. Transocean was the owner of the Deepwater Horizon rig, which was under contract with BP PLC (BP, BP.LN) in April 2010, when it was wrecked by a well blowout that killed 11 of its crew and unleashed the largest marine oil spill in U.S. history.
The offering, and its dilutive effect, highlight the fact that the Aker acquisition "has now devolved from looking like a regrettable deal to a borderline catastrophic deal," said analysts with Simmons & Co. The analysts said they had previously criticized the deal as overpriced and ill-timed due to the strain it placed on the company's balance sheet.
Transocean completed the Aker acquisition last month; the transaction expanded its ability to market rigs for sub-Arctic drilling, a sector that many experts say is poised to grow in the near to mid-term.
But credit rating agency Fitch Ratings downgraded Transocean debt one notch to the verge of junk territory in late August, after the company unveiled its bid for Aker. Standard & Poor's followed suit last month after the transaction closed. Moody's Investors Service said earlier this month that it would put Transocean's credit rating on review for possible downgrade, and on Tuesday reiterated its stance, despite the equity offering. Moody's said it expected the equity offering to raise between $1 and $1.3 billion in proceeds.
The offering price for the shares is expected to be determined through an accelerated bookbuilding process.
Copyright (c) 2011 Dow Jones & Company, Inc.
Generated by readers, the comments included herein do not reflect the views and opinions of Rigzone. All comments are subject to editorial review. Off-topic, inappropriate or insulting comments will be removed.
RELATED COMPANIES