Nexen to Sell Stakes in Canadian Basins
by Nexen Inc.
|
Press Release
|
Tuesday, November 29, 2011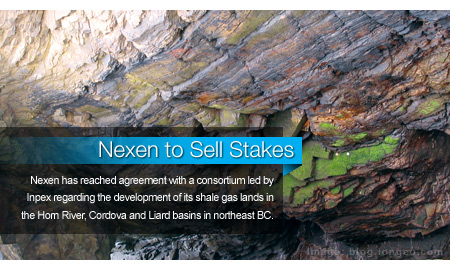 Nexen has reached agreement to create a strategic partnership with a consortium led by Inpex of Japan regarding the development of its shale gas lands in the Horn River, Cordova and Liard basins in northeast BC. Nexen will sell a 40% working interest in its northeast BC assets and will remain the operator.
"This joint venture represents a significant milestone in the advancement of our shale gas strategy and the premium over our invested cost shows the value we have created in a short time," said Marvin Romanow, Nexen's President and Chief Executive Officer. "The transaction provides us with world-class partners that have significant upstream and LNG expertise. It also recognizes the outstanding team we have put in place and the execution excellence they have consistently demonstrated."
Transaction Creates Significant Value for Nexen
The total consideration for the sale of the 40% interest is $700 million, with 50% upfront and a 50% capital carry. Closing is expected in the first quarter of 2012, at which time approximately $600 million would be due to Nexen.
Following the closing of the transaction, Nexen will hold a 60% interest in the joint venture lands, and the remaining 40% will be owned through Inpex Gas British Columbia Ltd., which is jointly established by Inpex (82%) and JGC Corporation (18%).
Following the closing of the joint venture agreement, the partnership intends to proceed with the appraisal and development of the resource, depending on economic conditions. The 18-well pad we are currently drilling is expected to be completed in the fourth quarter of 2012, increasing gross production volumes to peak rates of approximately 155 mmcf/d in early 2013. The parties will also jointly investigate the feasibility of a potential downstream project including LNG exports.
The development plan will allow Nexen to unlock the value of its significant shale gas resource in northeast British Columbia. On a gross basis, the joint venture lands are estimated to contain 4-15 tcf of recoverable contingent resource in the Horn River and Cordova basins and a further 5-23 tcf of prospective resource in the Liard basin.
Complementary Strengths Highlight Long-Term Partnership
Inpex currently conducts 71 oil and gas projects in 26 countries, making them Japan's largest oil and gas exploration and production (E&P) company. They are engaged in exploration, development and production activities around the globe with production of over 400,000 boe/d and have the largest oil and gas reserves and production volume of any Japanese E&P company.
Inpex brings significant LNG expertise and market access to the partnership. They own interests in large LNG projects including resource in both Indonesia and Australia and are building a regasification terminal in Japan. Inpex holds a 76% working interest in the Ichthys LNG project offshore Australia and is the operator. The project is expected to deliver LNG production volumes of 8.4 million tonnes per year. Inpex holds a 60% working interest in the Abadi LNG project offshore eastern Indonesia and is the operator (in July 2011, Inpex signed an agreement with Shell for transfer of a 30% participating interest. This transaction is subject to certain conditions). The project is expected to deliver LNG production volumes of 2.5 million tonnes per year. The production volume from these two projects is equivalent to 15% or more of Japan's current LNG annual import volumes.
JGC Corporation is one of the world's top engineering contractors, with extensive project management capabilities in the fields of petroleum refining and gas processing, LNG and petrochemicals.
Agreement Subject to Additional Regulatory and Financing Approvals
The agreement has been approved by the Board of Directors of Nexen, Inpex and JGC Corporation. Canadian regulatory approval is required and Inpex requires financing approval in order to complete the deal.
Bank of America Merrill Lynch is acting as financial advisor to Nexen on this transaction.
Generated by readers, the comments included herein do not reflect the views and opinions of Rigzone. All comments are subject to editorial review. Off-topic, inappropriate or insulting comments will be removed.
RELATED COMPANIES