India Anticipates $76B Investment in O&G Sector
by Rakesh Sharma
|
Dow Jones Newswires
|
Tuesday, November 29, 2011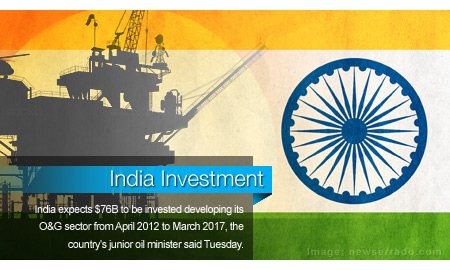 NEW DELHI (Dow Jones Newswires), Nov. 29, 2011
India expects INR3.90 trillion ($76 billion) to be invested developing its oil and gas sector from April 2012 to March 2017, the country's junior oil minister said Tuesday.
The development plan includes exploration, production, refining, marketing, storage, petrochemicals and related engineering activities to increase availability of petroleum and petroleum products, RPN Singh said in a written reply to lawmakers in the upper house of Parliament.
India currently meets 80% of its total crude needs through imports. Crude oil imports accounted for 29% of its total import bill of $350 billion in the year ended March 31. Imports are expected to surge over the next few years as an expanding economy drives demand for fuel products, pressuring the country's fiscal position.
The South Asian nation is seeking to ramp up exploration in its largely unexplored 3.14 million square kilometers of sedimentary basin over the coming years as it aims to cut its import bill and its dependence on other countries to meet its energy needs.
The country's flagship explorer, Oil & Natural Gas Corp. (500312.BY), plans to spend INR1.75 trillion over the five years ending March 2017. Its smaller state-run rival, Oil India Ltd. (533106.BY), has chalked out an investment of INR190 billion over the same time as they both aim to sharply raise oil and gas production.
"Keeping in view the growing requirement of energy in the country, government of India has adopted a multi-pronged strategy for giving momentum to production of hydrocarbons during the next five years," Singh said.
India's investment plans in its energy sector are in-line with a global spending spree that is being driven by high oil prices, which recovered quickly from the financial crisis and have remained above $100 per barrel in the current year. In June, Barclays Capital said it expects double-digit percentage annual growth rates in international spending by oil companies through 2015.
Copyright (c) 2011 Dow Jones & Company, Inc.
Generated by readers, the comments included herein do not reflect the views and opinions of Rigzone. All comments are subject to editorial review. Off-topic, inappropriate or insulting comments will be removed.