NiMin Finds Technique to 'Super-Enhance' Oil Recovery
by Barbara Saunders
|
Rigzone Staff
|
Wednesday, November 23, 2011
A California company has developed a technology to super-enhance enhanced oil recovery (EOR) from fading fields.
NiMin Energy, headquartered in Carpenteria, is applying its patented combined miscible drive (CMD) technology, which involves injecting a pure oxygen and water foam solution into underground oil reservoirs, in turn creating steam and carbon dioxide (CO2) through a wet combustion process. The steam and CO2 reduce the oil's viscosity, allowing it to flow toward horizontal wells.
Combined miscible drive (CMD) is a patented in-situ combustion process in which foamed oxygen is injected at the top of an oil reservoir to generate CO2, heat, and steam.
The company currently operates in California's San Joaquin basin, Wyoming's Bighorn basin and in St. Landry's Parish in southern Louisiana. However, NiMin sees big potential ahead.
NiMin estimates that its CMD process could be beneficial in 165 fields with some 14 billion barrels of heavy oil in place and another 276 oil light fields with about 32 billion barrels in place. At Pleito Creek, where NiMin began applying CMD in 2009, output increased to 300 barrels per day (bpd) from only 31 bpd. The company expects up to 60 percent recovery using CMD, versus only 12 percent using primary recovery.
While in-situ combustion technology has existed for over 100 years, there's been a high failure rate prior to CMD. Of 228 in-situ combustion projects, about 60 percent failed, due in part to poor reservoir characterization. Projects that utilized oxygen-enriched air were technical successes, but uneconomic when oil prices were lower. A heavy oil CMD candidate is one which would benefit from a traditional thermal EOR process, like steam, but steam is depth-limited to less than 2,000 feet, while CMD is effective to 5,000 feet. A light oil CMD candidate has properties in which CO2 flooding will increase recovery, but CO2 is not available at that location.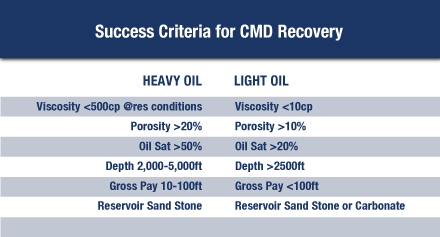 CMD's in-situ combustion process differs from conventional air injection because there is no release of new emissions to the atmosphere. This is because the process recycles CO2-rich exhaust gas back into the reservoir. The gas then absorbs into heavy oil, reducing its viscosity and increasing its mobility. The CMD process generates only 10-15 percent of the greenhouse gases as in conventional steam generation and no local footprint.
"Buy One Barrel, Get Two Free"
The company's simply-stated strategy is "buy one barrel, get two free."
NiMin plans to acquire producing oil and gas properties with substantial conventional and enhanced oil recovery development potential. On November 21, the company announced that it is conducting a broad strategic review to evaluate its current long-term business plan against a range of alternatives that have the potential to maximize shareholder value in the near-term. These include strategic financing opportunities, asset divestitures, technology licensing agreements, joint ventures and/or a corporate sale, merger or other business combination.
"Over the last few years, we have witnessed a renaissance of onshore drilling in the United States," said NiMin's Chairman and CEO, Clancy Cottman. "This strategic shift to increased onshore exploration and production is a clear affirmation of our business plan and strategy. However, we strongly believe that our current share price does not reflect the value of our assets, and we are therefore conducting a thorough review to determine whether shareholder value can be maximized through alternative methods."
In 2012, the company expects to reduce operating costs, build on its momentum and increase production.
Generated by readers, the comments included herein do not reflect the views and opinions of Rigzone. All comments are subject to editorial review. Off-topic, inappropriate or insulting comments will be removed.